BC: CloudBC Still Spending Lots and Delivering Little
February 02, 2017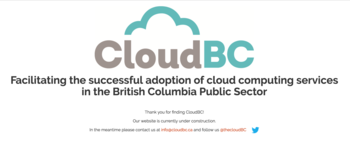 Last November, IT blogger Paul Ramsey (no, not the former BC NDP finance minister) wrote a post about a BC government agency I, frankly, had never heard of before – CloudBC. Paul wasn't terribly impressed:
The CloudBC initiative to "facilitate the successful adoption of cloud computing services in the British Columbia public sector" is now a little over a year old, and is up to no good.
Ramsey basically tore apart their mission, plan and cost, in his post. No need to rehash that here – just go read what he wrote.
After reading his post, we filed a Freedom of Information request asking for details on CloudBC's finances and the business plan.
We finally got it back on Monday, and it does little to soothe any concerns. What we learned from the document:
Six individual contractors were listed, five of whom were at $130-$175 per hour.
They have about a dozen employees
Three of these employees are budgeted to make more than $200,000 per year
They have budgeted nearly $320,000 for legal services
Their total budget is $1.8 million
It appears they may have already switched bosses – a Mike Larson left, and a Pierre Vorster came on at roughly the same time
BC Government IT staff skews old: one-third will retire within 5 years
CloudBC wants up to 2% of transactions it's a part of, but admits that could drive up prices and cause customers & vendors to circumvent the market.
The Freedom of Information and Privacy Protection Act really ties their hands by forbidding BC data to be held outside BC.