BC Government Spent $32,000 on Podium Signs
January 03, 2017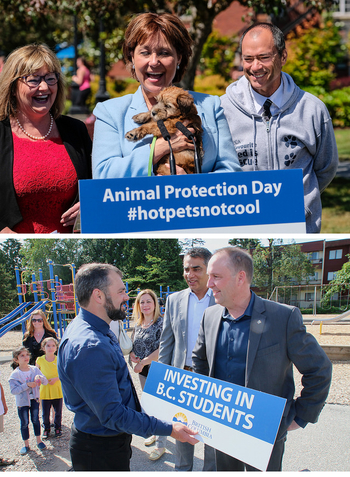 BC's best investigative reporter, Bob Mackin, launched a new website over the break (www.thebreaker.news) and it's already in my regular reading rotation. No one digs more out of government via Freedom of Information (FOI) than Bob.
Here's a good example. Over the past few years, it has become typical for custom made signs to grace podiums at BC Government news conferences. It's a way for the government to reinforce the key message they want to send at the event (and often a Twitter hashtag too).
Mackin decided to FOI the cost of these signs. From The Breaker:
The BC Liberal government spent almost $32,000 between April 2013 and July 2016 on podium signs for news conferences.
Forty-two of the slogan-slathered boards cost taxpayers more than $100 each.
Both the quantity and cost have increased year-over-year, from $5,852.13 for 96 signs in the 2013 fiscal year to $7,709.32 for 143 in 2014. Last year, the government spent $12,643.57 for 240 podium signs. In just over three months of the fiscal year that began March 31, the government already spent $5,469.77 on 83 signs.
Your tax dollars at work!