World Taxpayers Conference - Vancouver, B.C.
May 29, 2014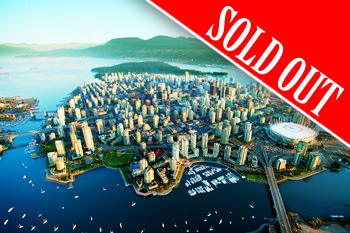 **Sold Out! Contact event organizer to be added to wait list**
About
The Canadian Taxpayers Federation (CTF) is pleased to be hosting the World Taxpayers Conference (WTC) May 29-31, 2014 in beautiful Vancouver, British Columbia.
Every two years, the 68 member organizations from 54 countries that make up the World Taxpayers Associations (WTA) hold an international conference hosted by one of its member organizations. In 2012 the conference was held in Kiev, Ukraine and in 2010 London, England (one of the late Margaret Thatcher's last public appearances).
The conference provides a unique opportunity for delegates from across Canada and around the world to exchange ideas and best practices that advance support for limited and accountable government.
Who Should Attend?
Taxpayers who are gouged by three sometimes four levels of government. Learn how to inform yourself and equip yourself to push back against big and intrusive government;
Taxpaying businesses who can't sweep their store front without "social permission." WTA speakers understand the challenges presented by busybody interest groups and politicians that stand in the way of wealth creation and prosperity;

 

   
Organizations who want to learn best practices from effective language and winning campaign ideas from around the globe to the latest online techniques that turn "likes" into dollars and "tweets" into media coverage;
Academics and thinkers who want insight on policy issues from in Canada and abroad ranging from tax reform and competition to spending and the future of the Eurozone;
Elected officials who support a limited role for government; this conference is the antidote to the demands of interest groups and bureaucratic inertia.
Travel Visa Information
Before you plan your visit, you should find out if you need a Visa to enter Canada. Please do this as soon as possible, as it may take several months to have your Visa processed. To find out if you need a visa, click here.
If you are applying for a visa, please contact Melanie Harvie at mharvie@taxpayer.com.
Hotel Information
Our conference will take place in downtown Vancouver at the Renaissance Vancouver Harbourside Hotel. We have made arrangements with three properties at varying price points for your convenience:
Renaissance Vancouver Harbourside Hotel ($189 - $219) 1133 West Hastings Street
Reservations can be made by calling 1-800-905-8582 in North America or 01-604-689-9211 internationally.  Book online at: https://resweb.passkey.com/Resweb.do?mode=welcome_ei_new&eventID=10786916. Please be sure to use the booking code World Taxpayers Conference when you reserve your room.
Days Inn Vancouver Downtown ($139 - $149) 921 West Pender Street (3 blocks from conference hotel)
Reservations can be made through the Reservations Department by calling 1-877-681-4335 in North America or 01-604-681-4335 internationally. Please be sure to use the booking code World Taxpayers Conference when you reserve your room.
University of British Columbia Campus ($45) 2329 West Mall (11 kilometers from conference hotel. Bus service is available between downtown and UBC campus)
Reservations and other inquiries can be made by calling 1-888-822-1030 in North America or 01-604-822-1000 internationally.  Book online at: https://reserve.ubcconferences.com. Please be sure to use the booking code World Taxpayers Conference when you reserve your room.  
Air Transportation
The Canadian Taxpayers Federation has arranged for discount airfares for delegates traveling to Vancouver from locations throughout North America or Internationally.
When booking a flight at AirCanada.com enter promo code HVRXT6V1 to receive a discount of up to 12%*

For travelers in North America Westjet offers a 10% discount on its best-available FLEX fare. To make a reservation call 1-888-493-7853 and quote CC8182.  Flight and schedule information is available at Westjet.com. 
*Discounts rates are available for travel up to seven days prior to and seven days after the event. Click here to view the full Air Canada discount chart. 
Ground Transportation
From Vancouver International Airport, there are two options for getting to the conference hotel:
Taxi – More than 500 licensed taxis currently serve the airport. They are available 24 hours a day, sevendays a week. The fare to downtown is approximately $50.
Canada Line – This is Vancouver's rapid transit rail link connecting the airport to downtown in 26 minutes. The fare to downtown is $8.75. To catch the Canada Line, exit the building following signs marked Canada Line. You may ask Customer Care staff in red or green vests for assistance. From Waterfront Station you are four blocks from both the Renaissance and Days Inn hotels. (A map will be sent to registrants.) 
Speakers
Colin Busby

Mr. Busby was awarded the 2007 C.D. Howe Research Fellowship and joined the Institute as an analyst thereafter. While writing broadly on economic issues, his emphasis is on social policy with a concentration on healthcare and demographics. Before he began his term at the C.D. Howe Institute, Colin worked at Industry Canada and for the United Nations Industrial Development Organization in Vienna. He also studied in Paris and is bilingual.
Benjamin Case
Mr. Case is President of Virginia-based Case Consulting Services, which helps non-profits raise money via strategic planning, fundraising and communications. He has served in the non-profit sector for 35 years, and formed Case Consulting Services in 2001. Mr. Case has worked for and been engaged by organizations that have raised over $3.5 billion, and has been personally involved in the successful solicitation of over $1 billion in gifts.
Alejandro (Alex) Chafuen

Dr. Chafuen has been president of Atlas Economic Research Foundation since 1991. He is also the president and founder of the Hispanic American Center of Economic Research, and the International Freedom Educational Foundation. Dr. Chafuen is a contributor of Forbes.com writing a weekly column "Intellectual Entrepreneurs" focusing on think tanks, policy scholars and champions of innovation.  He received the Global Leadership Award (2010) from the Leadership Institute US, the Bow Group (U.K.), and the World Congress of Families/Howard Center for Family.
Hon. Stockwell Day
Stockwell Day was successfully elected nine times over 25 years at two levels of government and in two separate provinces; he is a former cabinet minister in Alberta and a former leader of the Canadian Alliance. He was a federal Cabinet Minister for several portfolios including Minister of Public Safety, Minister of International Trade and Minister for the Asia-Pacific Gateway. In 1999, as Provincial Treasurer in Alberta, Mr. Day announced Canada's first single rate income tax – a rate of 10% on all income over a Basic Personal Exemption.
Matthew Elliott

Not only one of the foremost political campaigners working in Westminster and founder of the TaxPayers' Alliance, Mr. Elliott is also sought after as an electoral strategist and has worked with political parties in Azerbaijan, Belarus, Georgia, Ghana, Maldives, Serbia and Ukraine. His current focus is his new campaign Business for Britain, which launched in April 2013 and now has the support of over 750 business leaders from across the country to campaign for a better deal for Britain in the EU.
Peter Foster

Mr. Foster is an editorial columnist for the National Post. His recently published book -- Why We Bite the Invisible Hand: The Psychology of anti-Capitalism – is his ninth.  His first, The Blue-Eyed Sheiks, was a number one bestseller. He has won numerous journalism awards, most recently the 2011 English-language Economic Education Prize from the Montreal Economic Institute. His columns have twice been shortlisted for the international Bastiat Prize. 
John Fund

Mr. Fund is a member of the editorial board of The Wall Street Journal, and a contributor to the Fox News Channel. He is considered a notable expert on American politics and the nexus between politics and economics. His articles have appeared in many publications including Esquire, The Republic and National Review, and he has authored several books, including his most recent: Stealing Elections: How Voter Fraud Threatens our Democracy.
Michael Jager

A strong advocate for flat taxes and international tax competition, Mr. Jager has been the Public Relations Director of the Bavarian Taxpayers Association and Secretary General of the Taxpayers Association of Europe since 1996 as well as Managing Director of the European Economic Senate since 2011. He is a founding member of the European Institute of Public Finance, and a founding member of the International Committee for the Protection of Taxpayers' Rights in Central and Eastern Europe and Central Asia.
Tim Kachuriak

Mr. Kachuriak is the founder and Chief Innovation and Optimization Officer for Next After, a Texas-based research and consulting firm that works with non-profits to help them grow their resource capacity. Next After's work is primarily focused on optimizing the donor funnel through research, using the internet as a living laboratory. Mr. Kachuriak has developed a number of innovative fundraising programs and methodologies that are utilized by both national and international non-profits, NGOs and fundraising agencies.
Kevan Kjar 

Mr. Kjar founded Idaho based ArrowHead3 Consulting to help organizations create stories that resonate with their audience, and to create a consensus among the team so that everyone is singing the same song. He has helped thousands of professionals across the globe in countries such as England, Austria and India with their message. He is also the co-author of The ArrowHead: Winning the Story War.
Dr. Daniel J Mitchell 

A Senior Fellow at the Cato Institute in Washington, DC, Dr. Mitchell is a top expert on tax reform, supply-side tax policy and a strong advocate of a flat tax and international tax competition. His articles can be found in such publications as the Wall Street Journal, New York Times and Washington Times. His book Global Tax Revolution: The Rise of Tax Competition and the Battle to Defend It is co-authored with Canadian writer Chris Edwards.
Rex Murphy 

Canadian writer and broadcaster Rex Murphy is a trusted face and voice across Canada whose intellect and biting humour strikes through the heart of profound political and social issues. As a weekly television commentator on The National and a weekly columnist for The National Post, Mr. Murphy draws thousands into the discussion. He has authored two books, Canada And Other Matters of Opinion and Points of View.
Grover Norquist

Mr. Norquist is President of Americans for Tax Reform (ATR), a taxpayer advocacy group he founded in 1985 at US President Ronald Reagan's request. ATR works to limit the size and cost of government, opposes higher taxes at all levels of government, and supports tax reform that moves toward taxing consumed income one time at one rate. Mr. Norquist also chairs the Washington, DC based "Wednesday Meeting" a weekly gathering of more than 150 elected officials, political activists and movement leaders.
Peter Schweizer

President of the US-based Government Accountability Institute, Mr. Schweizer is the author or co-author of more than a dozen books, including New York Times and Washington Post bestsellers, his latest being Extortion: How Politicians Extract Your Money, Buy Votes, and Line Their Own Pockets. Mr. Schweizer is also a William J. Casey Fellow at the Hoover Institution, and served as a consultant to the White House Office of Presidential Speechwriting team.
Catherine Swift

Ms. Swift is Chair of the Board of Governors for the Canadian Federation of Independent Business (CFIB) where she coordinates policy issues at federal, provincial and municipal levels of government and represents CFIB with politicians and businesses. She is also currently President of the International Small Business Congress, and is spokesperson for Working Canadians. Ms. Swift was cited in 2012 as one of the top 100 most powerful women in Canada by the Women's Executive Network.
Dr. Michael Walker

Dr. Walker was the Executive Director of the Fraser Institute from it's inception in 1974 until 2005. A Vancouver based economist, his articles on technical economic subjects have appeared in professional journals in Canada, the US and Europe. He is the co-founder, with Milton and Rose D. Friedman, of the Economic World Project, which is a collaboration of public policy institutes in 85 countries and produces the annual Economic Freedom of the World Index. 
Special Presentation
The Canadian Taxpayers Federation will be making a special presentation to former Finance Minister and Prime Minister the Right Honourable Paul Martin during the lunch on Saturday May 31st.
Rt. Hon. Paul Martin

Rt. Hon. Paul Martin was the twenty-first Prime Minister of Canada from 2003 to 2006 and the country's finance minister from 1993 to 2002. During his tenure as Minister of Finance, he erased what was then the highest deficit among G7 nations, subsequently recording five consecutive budget surpluses and paying down the federal debt. In 2000 Mr. Martin eliminated "bracket creep" taxation. Between his first balanced budget in 1997 to his leaving office as Prime Minister in 2006, Mr. Martin reduced the country's federal debt by $81.4 billion.
Agenda
Thursday May 29
World Taxpayers Association Board Meeting
World Taxpayers Association Members Meeting
Friday May 30
Saturday May 31 
Table Displays

We have a limited amount of space available for materials to be displayed on tables. If your organization would like to display materials during the conference, please e-mail our Conference Organizer Julie Vanagas jvanagas@taxpayer.com.
Tickets
Conference Registration (General) - Participation in all sessions including breakfast and lunch on both Friday and Saturday as well as the Rex Murphy dinner Saturday night. Registered delegates can purchase Rex Murphy dinner tickets for outside guests at a discounted rate by clicking here.  
Conference Registration (Taxpayers Caucus) - Participation in all sessions including breakfast and lunch on both Friday and Saturday as well as the Rex Murphy dinner Saturday night. Registered delegates can purchase Rex Murphy dinner tickets for outside guests at a discounted rate by clicking here. In addition, Caucus members will receive special VIP event access - details coming soon! For more information on the Taxpayers Caucus, click here.
Conference Registration (Student) - Participation in all sessions including breakfast and lunch on both Friday and Saturday as well as the Rex Murphy dinner Saturday night. Students must provide proof of full time enrollment upon arrival. 
To purchase conference tickets, please visit
To purchase Rex Murphy dinner tickets, please visit
Media Inquiries
All media inquiries for the World Taxpayers Conference should be directed to Canadian Taxpayers Federation Federal Director Gregory Thomas: gthomas@taxpayer.com.