Molson Raised Prices on Discount Beers as a Result of Alberta Government Beer Tax Hike on Smaller Brews
October 26, 2016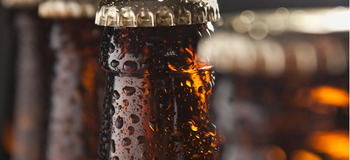 Emails leaked to the CTF show NDP beer tax hike meant higher beer prices in Alberta – even on beers not impacted by hike
CALGARY, AB: Emails leaked to the Canadian Taxpayers Federation (CTF) have revealed that at least one of the big beer companies, Molson Coors, hiked the prices of their discount beers following the Alberta government's increase to the taxes on competing discount brands.
"This should have been predictable. When the Alberta government stepped in to make some brands of discount beer more expensive, big beer companies could now charge more, and did," said CTF Alberta Director Paige MacPherson. "This is more bad news for Alberta beer consumers."
An internal email from Molson Coors obtained by the CTF shows after the Alberta government raised the beer taxes on other beer companies, the company decided to increase prices on their discount beer to "protect Profitability [sic]."
The internal email reads: "Due to the taxes for various Brewers [sic] moving up on August 5th, 2016, an opportunity exists to move up the floor on Deep Discount Value Beer in Alberta."
The Molson email details the tax and price increases on discount beers from a smaller out-of-province brewer, Great Western Brewing. For example, an 8-pack of Brewhouse Pilsner increased in price on August 5th by 27.9 per cent, or $2.34 per pack. A 24-pack increased by 21.4 per cent, or $5.82 per pack.
The Molson email then lists the price increases on Molson Coors' Black Ice discount beer. For example, a 15-pack increased by 7.02 per cent, or $1.18 per pack.
In addition, while the tax increase is not referenced, an internal email from Labatt states, "Labatt is adjusting some of its pricing effective Friday, September 2nd."
It goes on to say, "Alberta's market suffers from a big price gap between core brands and value brands. Labatt's goal is to minimize this GAP [sic] to encourage customers to trade up to more profitable and bigger SKUS [items for sale] versus trading down to smaller and cheaper SKUS."
"The Alberta government may tout its beer tax hike and subsidies as a positive thing for small, local breweries, but in reality they've made it easier for large beer companies to increase prices," said MacPherson. "The government should give consumers a break and reverse its unfair beer tax hike now."
In April 2013, Canada's National Brewers, which represents Sleeman, Labatt and Molson Coors, lobbied the Alberta government to limit the then-existing lower beer tax rate exclusively to very small breweries, effectively advocating that more small and medium-sized breweries pay a higher rate of tax.
The Alberta government increased beer taxes to $1.25 a litre for all beers sold in Alberta on August 5th, 2015, regardless of brewery size or location. This rate was previously paid only by the largest brewers, such as Labatt and Molson Coors.
The smallest out-of-province craft breweries saw their tax rate jump from 20 cents a litre to $1.25 a litre overnight, increasing some six packs by $3.00.
The Alberta government is offering a subsidy to small Alberta brewers.
"If the government wants to level the playing field, it should lower beer taxes on all brews," said MacPherson. "That's a win for all beer producers and, most importantly, a win for consumers."
Both Saskatoon-based brewer Great Western and Toronto-based Steamwhistle Brewery are taking the Alberta government to court over its beer tax hike. Both breweries maintain it's an unconstitutional barrier to free trade.
Ontario-based Muskoka Brewery pulled its beer from Alberta shelves in November 2015 as a result of the government's beer tax hike.
— 30 —
For more information:
Alberta Director Paige MacPherson
office: 800-661-018, email: pmacpherson@taxpayer.com