Taxpayers Federation Supports Saskatchewan's Commitment to Trim Spending
March 20, 2017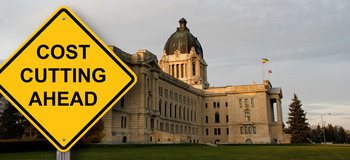 March 20, 2017
Taxpayers Federation Supports Saskatchewan's Commitment to Trim Spending
REGINA, SK: The Canadian Taxpayers Federation (CTF) supports Premier Brad Wall's commitment to trim spending in the upcoming budget. In a video released on social media, Premier Wall promised that "controlling and reducing government spending" would be a key measure taken in the budget to be released on Mar. 22, 2017.
"The Saskatchewan government has less money and it needs to spend less money just like families and businesses who have already trimmed their budgets over the past few years," said Todd MacKay, Prairie Director for the Canadian Taxpayers Federation. "Trimming spending isn't easy, but running deficits year after year won't make it easier. Controlling and reducing spending is the responsible policy for the Saskatchewan government."
Premier Wall also said the government plans to rebalance the tax burden by reducing income taxes and raising consumption taxes. The province is projecting lower revenues from sales taxes and fuel taxes as well as personal and business income taxes. This revenue reduction is not due to recent tax relief, but because Saskatchewanians are earning less and spending less.
"Reforming and simplifying the tax code could be positive as long as it doesn't result in higher taxes," said MacKay. "People in Saskatchewan are already struggling because they have less money and increasing the tax burden would only make that struggle harder."
Lastly, Premier Wall promised to balance the budget within three years.
"The past two budgets included hundreds of millions in borrowing and we can't afford to keep borrowing for years to come," said MacKay. "Years of delay in balancing the budget won't make this easier and Saskatchewanians remember the damage a string of deficits can cause. We need to make tough decisions to trim spending and balance the budget as soon as possible so that we don't face even tougher decisions in the future."
- 30 -
For more information, contact:
Todd MacKay, Prairie Director - Canadian Taxpayers Federation
Cell: 306-582-7717  Email: tmackay@taxpayer.com