Rebuilding the Alberta Advantage
February 03, 2014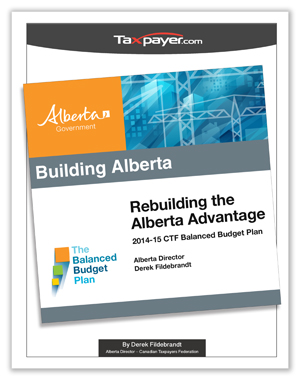 The Canadian Taxpayers Federation (CTF) releases 2014 prebudget submission: Rebuilding the Alberta Advantage. The submission details the CTF's plan to balance the budget by the end of next year without raising taxes. 
Rebuilding the Alberta Advantage lays out in detail $2.4 billion in real spending reductions, or $3.1 billion less than the government is planning on spending this next year. Cuts include:
Enforcing a cross-government hiring and wage freeze to save $751 million;
Reducing non-front line bureaucrats by 5 per cent to save $150 million;
Extending the five-year Capital Plan over seven-years to save $1.6 billion; and
Eliminating $141 million in corporate welfare subsidies.
Click here to read the full report.