Action Updates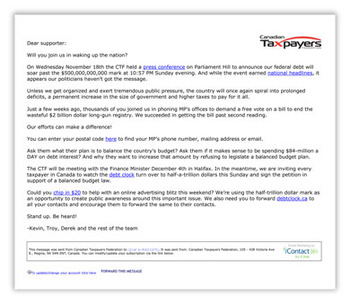 Click here to become a CTF supporter and receive updates - there is no cost to join!
They're Informative:
Action updates will keep you current on the latest activities of government and separate facts from rhectoric when it comes to your tax dollars.
They're Interactive:
Interactive features mean you are always one click away from more detailed information, a survey seeking your input, a petition to sign or a decision maker to contact.
They're Proactive:
Action updates inform you of upcoming legislation, public hearings, budgets, election campaigns and leadership races. Action updates allow you a simple way to add your voice before decisions are made by officials.