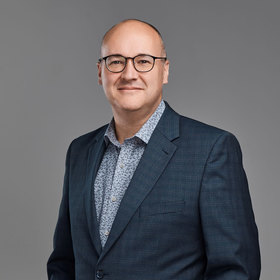 George Marshall
Board Member
Office Location:
501 - 2201 11th Ave Regina, SK S4P 0J8
Phone:
Fax:
Cell:
George Marshall is the Chief Executive Officer for Service Hospitality. Service Hospitality works with the 6,000 employers in the Service & Hospitality Industries in Saskatchewan to reduce workplace injuries and the associated costs of those injuries.
George has an undergraduate degree in mathematics and did his graduate work in statistics. He spent the first 5 years of his career working with private database marketing companies as a statistical consultant, while teaching part-time at the University of Regina a variety of courses in mathematics, statistics, engineering and actuarial science.
George spent 10 years working with Workers' Compensation Board and the Saskatchewan Assessment Management Agency, leading various research and analytical functions within those organizations.
In 2010, George began his tenure as the CEO of Service Hospitality. For a brief period, he left the organization to head up the new Saskatchewan healthcare safety association but returned in late 2012.
George has his designation (ICD.D) as a corporate director from the Institute of Corporate Directors.
George is currently:
On the Board of the CanWest Group of Companies
On the Board for the Canadian Mental Health Association SK Division
On the Board for the Canadian Taxpayers Federation
Ex-officio board member for Service Hospitality
The Chair of the national group Canadian Associations for Safe Hospitality
A member of the Health and Safety Leadership Centre for the Conference Board of Canada
A member of the Saskatchewan Association of Safety Associations