Introducing Generation Screwed
May 06, 2014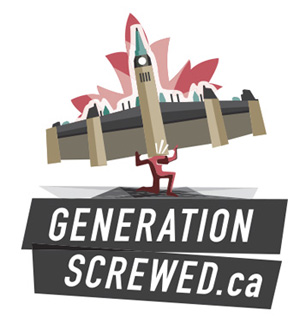 Searching for a number young Canadians should care about? How about $1.2 trillion? That is the amount of debt future generations of Canadians have been saddled with by governments across Canada. Governments who have continually spent beyond their means, seemingly unnerved by the prospect of sticking future generations with the bill for benefits they enjoyed.
Introducing Generation Screwed – the new campaign by the Canadian Taxpayers Federation to raise awareness and mobilize young Canadians on issues of government debt, deficits and unfunded liabilities.
As an organization the Canadian Taxpayers Federation has one of the largest and most engaged groups of supporters anywhere in Canada. Together, we have pushed back against higher taxes, reckless spending and irresponsible government.
Together, we have worked to make this country a better place for future generations.
But, we began to ask ourselves, was our message being heard by those very generations we were trying to help? The same generations that will lead us into the future?
This led us to the idea to engage those who have the most at stake, the most to lose. It has spawned a new initiative, a new movement, that we hope, with your help, can make a difference to this country and its future. We call it "Generation Screwed."
In only the first year of our campaign, we have expanded to over 18 universities across Canada. At each of these schools we identified a coordinator to spearhead efforts on campus and attract students to our cause. We have equipped each coordinator with literature to distribute, and banners to promote events.
We launched a website, www.GenerationScrewed.ca, where students can find out exactly how much they owe and the dangers of government debt. We reached out over social media on Facebook, Twitter and YouTube raising awareness among thousands of students while providing resources to those wanting to get involved.
We earned media, held contests and put on events across the country – but we are just getting started. With your support, we plan to expand to even more campuses and provide an even louder voice for future generations. A voice that politicians can't ignore.
Please consider supporting our campaign by joining our movement, making a small donation or sharing our campaign with your friends and family. Your support is greatly appreciated.