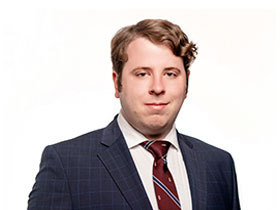 Renaud Brossard
Quebec Director
Office Location:
Phone:
Fax:
A business graduate from École des sciences de la gestion (ESG) at Université du Québec à Montréal (UQAM), Renaud has always been drawn to politics. First getting involved in politics at the age of eighteen, he quickly left partisan politics, preferring to focus on getting his ideals implemented instead of simply getting some guy elected.

That is how he became involved in Generation Screwed, first as UQAM coordinator, and then later as the movement's Executive Director. There, he worked on mobilizing young Canadians against government debt and massive deficits, two of the greatest issues facing his generation and Canada as a whole due to our aging population and our politicians' lack of vision for anything past their four-year-terms.

Renaud is passionate about issues regarding economic development, efficient government and free trade. This is why he got involved with the CTF in the first place and remains involved to this day.