BC: Why did a 19-year-old DJ get $16,000 to study the Finnish education system?
April 22, 2014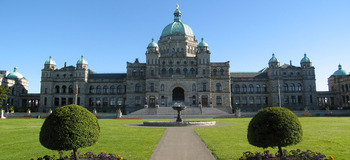 Last fall, the Vancouver Sun published a story about a weird $8,000 sole-sourced contract handed out by the Ministry of Education's superintendent of achievement, Rick Davis, to an 18-year-old Saanichton woman named Anjali Vyas. Vyas was paid by provincial taxpayers to go to Finland to review teacher training practices and give B.C. some sort of report from a student perspective.
Blogger Janet Steffenhagen later noted that it wasn't one $8,000 contract for Vyas – it was two, totaling $16,000.
Anyway, the whole thing seemed really odd, so the B.C. office of the Canadian Taxpayers Federation submitted a Freedom of Information Act request for all documents and emails related to the contract. It finally came back, just before the long weekend.
We have posted the full, 115-page package, and here are some of our thoughts:
1. The origin stories don't match. Anjali Vyas told the Sun that she was deejaying her friend's wedding when she somehow met Davis and started talking education philosophy. "We instantly hit it off and he was so interested in my project," Vyas said.
But the emails in our possession leave a different impression. On page 11, a document that appears to have been prepared by Davis claims, "Anjali came to the attention of Rick Davis… she was referred by her teacher to him with the expectation that Mr. Davis may be able to narrow in the central questions around teacher education." This was reinforced in an email from Anjali to Rick (page 88): "[Anjali's teacher] Gord mentioned he had talked to you, and that I should get in touch with you [in] regards to my research… I was hoping to meet with you sometime soon and further discuss how this research could benefit not only my own knowledge of educational systems, but more importantly, it could illuminate some new and innovative ideas the BC government could implement."
2. Rick Davis seems very unhappy with bureaucracy. Normally, I'd agree with cutting red tape in government, but rules that prevent sole-sourced contracts to 18 year olds seem pretty wise to me. In one email to Anjali (p. 34), he writes: "Have not forgotten but waiting for a few things to land on the contract front. Will call soon. It is really difficult in government to do things out of the box – but fun!" In another email to Anjali (p. 43), he writes: "You are on new turf. Cool but a little scary but you have lots of us close at hand." In that same email, he compares Anjali to a historic, young explorer in charge of his own ship: "That is your destiny."
In an email to the Saanich school district (who Davis convinces to cut Anjali the relevant cheques – see the next point), he laments: "Ministry red tape interferes with being very nimble and we need wheels under this work quickly" (p. 58). Why?
3. Rick Davis funnels the money to the Saanich school district and has them contract Anjali Vyas (pp. 54, 57 and 115). Further, he has the Teacher Regulation Branch pay for her airfare to Finland (pp. 50 and 89).
4. When confusion arises that somehow the University of Victoria is sanctioning the Vyas project, UVic makes it clear they are not. "This project is not certified by the UVic Research Ethics Board," wrote Eugenie Lam of UVic (p. 23). "We ask that on the consent form you remove the reference to the UVic Office of Research Services because the UVic Research Ethics Board has no oversight on this project."
5. Claims that Anjali Vyas had a special connection to the University of Helsinki appear to be rubbish. Anjali told the Sun she was "obsessed" with the work of University of Helsinki professor Pasi Sahlberg, including his book Finnish Lessons: What can the world learn from educational change in Finland?. Amusingly, Rick Davis gave her that book (p. 96).
Davis wrote Anjali (and several ministry officials) early in the process: "You mentioned that your Finnish based mentor, Pasi Sahlberg, has offered you access at the University of Helsinki to his classes. It would be very helpful for you to engage his advice to the extent you can" (p. 111). In another email explaining the project to the Saanich school district, Davis writes that Vyas "connected" with Sahlberg.
But it's clear that "connection" was superficial. Sahlberg left the university and Vyas was left scrambling – "roadblocks," she called them (p. 3). The school email address she had for Sahlberg was inactive (p. 40). The Ministry basically had to organize a way into the university for Anjali – with a Ministry official connecting her to two Finnish professors. Best unintentionally amusing line in the FOI comes from Anjali (p. 40): "Everyone here likes to do things exactly by the book so you'd imagine their confusion when they meet me and hear about my plans… the general feelings towards me are friendly but dubious." I know exactly how they feel, Anjali.
Eventually, Vyas did meet with Sahlberg. It appears she, Sahlberg and California teacher Janet English drove to a conference together. No information was provided in the FOI documents on what wisdom Vyas uncovered, although English notes the conversation revolved around Sahlberg's family. The next day, English had a formal interview with Sahlberg and wrote a lengthy blog post about it. Nothing about Vyas.
UBC professor Wayne Ross notes that Finland is one of the most-studied education systems in the world. While $16,000 isn't a huge amount of money in a $5.4 billion education budget, the whole thing seems very weird – and worth a closer look by Education Minister Peter Fassbender.