Corporate Welfare to Maple Leaf Sports and Entertainment
October 03, 2013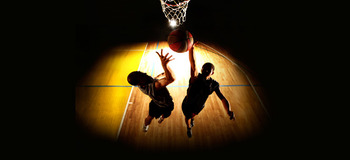 Minister of Tourism, Culture and Sport, Michael Chan was one of the featured speakers at this week's announcement that Toronto will host the 2016 NBA All-Star Game. Apparently that's one of the perks of being in charge of the province's tourism ministry, aside from handing out giant cheques to special interest groups, you get to appear onstage with rap icons and basketball legends.

News that famous Toronto-native Drake will be the Raptors' new ambassador to promote the All-Star Game overshadowed the role of the provincial minister at the announcement. The minister's staff confirmed, however, that he was in fact at the announcement to hand over a $500,000 "Celebrate Ontario Blockbuster grant" for the 2016 celebration.
Half-a-million taxpayer dollars will be forked over to Maple Leaf Sports and Entertainment Group (MLSE), one of the largest companies in sports, in order to host this one-time event.
Maple Leaf Sports and Entertainment Group doesn't exactly need corporate welfare. When the Ontario Teacher's Pension Plan sold its ownership share in MLSE to Bell and Rogers, the company's valuation was estimated to be $2.25 billion. Surely that $500k is just a drop in the bucket. So why bother forking it over in the first place?
This company owns most things sports in Toronto. Along with the Air Canada Centre, they operate BMO Field and Ricoh Coliseum, and have invested in the practice facilities MasterCard Centre and KIA Training Grounds. They own the swanky residencies in Maple Leaf Square, including Real Sports Bar & Grill, the Vegas-style sports-themed lounge and e11even, a posh and upscale restaurant. They own Leafs TV, NBA TV Canada, and GolTV – a station that broadcasts MLS soccer.
They also own the Toronto Maple Leafs – the largest and most profitable hockey team on the planet, valued at over $1 billion – along with the Toronto FC, the NBA's Raptors, the AHL's Marlies, and Toronto FC Academy youth soccer system.
MLSE owns the teams, the buildings, the ticket operators, heck, they even sell the beer and popcorn at the events.
This is a profitable company; they know how to make money and how to run a successful event. That is why they're a billion-dollar enterprise. So what on earth are we subsidizing? Ontario taxpayers are simply padding their bottom line.
MLSE doesn't need this grant. The problem is that this government simply cannot resist handing money out left, right and center. And it doesn't learn from past mistakes. In fact, it even sullies the good lessons of past.
MLSE used to be the model corporate citizen; it used to go out of its way not to take tax dollars and even used its own money to contribute to the city. While constructing the Air Canada Centre (ACC), they raised $13 million for public infrastructure surrounding the building, and built the Bay West Teamway, Union Plaza, the Galleria, and Bremner Boulevard. All of this was financed privately and no public money was used.
They didn't ask for any government assistance to build the ACC, even while other professional sports teams across North America raise their hands and beg for taxpayer subsides of sports buildings. MLSE was the type of organization that taxpayers could really get behind.
Not any more.
The once proud MLSE is now just as guilty. But can we really blame them? There isn't a single sector in the economy where the Wynne government isn't trying to give our tax dollars away for the sake of a quick photo opportunity and some good publicity.
We know the Wynne government has no shame when it comes to wasting taxpayer's money. They have no problem using our money to pay for lavish alcohol-filled parties for millionaires and billionaires. We were just hoping that companies like MLSE would have too much pride to accept these corporate welfare cheques.