13th Annual "Teddy" Government Waste Awards Winners
February 08, 2011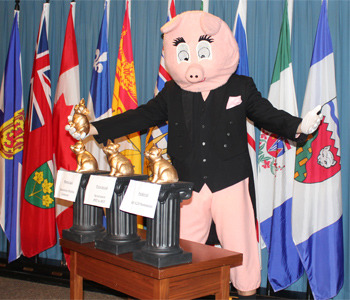 G8/G20 summit waste, Ontario tax collector job-retention severance, Edmonton haiku contest & former Toronto Mayor David Miller are this year's winners.
OTTAWA: The Canadian Taxpayers Federation (CTF) today held its 13th annual "Teddy Waste Awards" ceremony to recognize the best of the worst in government waste. CTF federal director, Kevin Gaudet acted as the Master of Ceremonies today at the black tie news conference on Parliament Hill. The CTF's "Porky the Waste Hater" (pig mascot) and lovely guest hostess Kim assisted with the ceremony.
The "Teddy" award is named after Ted Weatherill, a former federal bureaucrat who was fired for outrageous expenses in 1999. Each year the CTF holds the ceremony to recognize a government, public office holder, civil servant, department or agency that most exemplifies government waste.
"We hold the Teddies every year during award-season to bring to the public's attention government waste and to point out where government can do better," said Gaudet. "Holding the Teddies helps to ensure that if politicians and bureaucrats waste our money, we can turn it into a punch-line to hold them accountable."
Federal Teddy Winner:
G8/G20 costs: $1.24 billion
"And the Federal Teddy goes to...organizers of the G8/G20 summits for managing to spend a billion dollars on a political chin-wag, ironically organized to discuss how to trim government over-spending," said Gaudet.
Provincial Teddy Winner:
Ontario tax collectors paid severance for keeping jobs: $56-million (max estimate)
"And the Provincial Teddy goes to...Ontario tax collectors who were paid a maximum $45,000 each in severance for changing their business cards from 'Ontario PST collector' to 'Federal HST' collector."
Municipal Teddy Winner:
Edmonton haiku contest: $5,000
"And the Municipal Teddy goes to…the City of Edmonton for spending $5,000 on a contest to get people to write poems or haikus about riding the bus, despite already paying an official city poet laureate another $5,000 a year to write poetry for the city," said Gaudet.
Lifetime Achievement Teddy:
David Miller
"And the Lifetime Achievement Teddy goes to…former Toronto Mayor, David Miller, for a career of reckless taxing-and-spending. As Mayor, Miller grew the city's operating budget by 44 per cent, $2.8 billion, increased the city's debt by more than $1 billion and increased property taxes every year well beyond the rate of inflation. He fought for and got new taxing powers which he used to impose a host of new taxes, including a: plastic bag tax, garbage tax, car tax, billboard tax, and land transfer tax."
Concluding the ceremony Gaudet remarked, "over the years David Miller has provided so much material for the Teddies we will see if future municipal nominations will suffer with his departure."
Click here for more information on this year's nominees.
Other nominees included:
Federal - Space Agency/Agriculture Canada: $400,000 for failed "Canadian Content" astronaut food program.
Federal - Border Services Agency Employee: Bureaucrat spends five hours/day at work surfing porn and is not fired.
Federal - National Defence: $515,000 for not conducting security checks on NORAD facility builders.
Federal - Public Works: $550 million for maintenance including $1,000 for removing one light switch.
Federal - Senator Lavigne: $30,000 for expenses – while suspended from the Senate.
Provincial – ON E-Health: $224M for consultant abuse including charges to consult on consulting charges.
Provincial - ON Parks: $400K for Niagara Parks Exec expenses including roller coasters.
Provincial – NS Premier Dexter: $10,600 to expense full membership fees to the bar association, then reducing status to "not practicing" when forced to pay himself.
Provincial - MB Health: $38,000 to build "rooftop oasis" for health bureaucrats while patients down the road fundraise for theirs.
Municipal – Summerside, PEI: $1.3 million for fraudulent Michael Jackson tribute concert.
Municipal – Regina, SK: $5,000 for bizarre sponsorships including $450 for a 'pickleball tournament.'
Municipal -Richmond, BC: $59 million for city purchase of land for five-times real value to be "as fair as possible."
Municipal - Toronto, ON: Public transit boss caught expensing $2,400 for taxis.
Click here for more information on this year's nominees.
-30-
For further information please contact CTF federal director Kevin Gaudet at 613-234-6554 (office) or (416) 725-0501 (mobile)