16th Annual "Teddy" Government Waste Awards Winners
February 26, 2014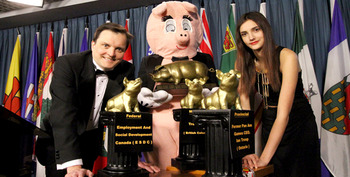 Federal – Employment and Social Development Canada  – wasted $2.5 million on 2013 Stanley Cup playoffs advertising for the non-existent Canada Jobs Grant
Provincial – fired Toronto Pan-Am Games boss
Local – Vancouver's TransLink builds $4.5 million parking lot for nobody
Lifetime Achievement – The Senate of Canada, after sober second thought
OTTAWA, ON: The Canadian Taxpayers Federation (CTF) today held its 16th annual Teddy Waste Awards ceremony, celebrating the best of the worst in government waste. Joining the CTF's pig mascot Porky the Waste Hater was CTF Federal Director Gregory Thomas in his third year as Master of Ceremonies, and talented event hostess Nakisa. The gala awards event took place Parliament Hill at the Charles Lynch Press Conference Theatre.
The Teddy, the pig-shaped award given annually by the CTF to government's worst waste offenders, is named for Ted Weatherill, a former federal appointee who was turfed in 1999 for submitting an imaginative collection of sketchy expense claims, including a $700 lunch for two.
The CTF hosts the Teddy awards each year during red-carpet season to highlight waste and malfeasance at the national, provincial and local level.
"Sometimes taxpayers get the last laugh on crooked politicians and free-spending bureaucrats," said Thomas. "Sometimes a Teddy award can be the beginning of the end for a sad story of government waste."
Federal Teddy Winner: Employment and Social Development Canada
"If you jumped from your sofa during the Stanley Cup Playoffs in 2013 to alert your unemployed teenager about the fabulous new $15,000 Canada Jobs Grant, you were in for a sad surprise. Despite $2.5 million in taxpayer-funded advertising – such as those slick TV commercials during the games – the Canada Jobs Grant didn't exist, and still doesn't.
Maybe by the time the 2014 playoffs roll around the government will reach a deal with the provinces and Canada's employers, and bring the Canada Jobs Grant into existence," said Thomas.
Provincial Teddy Winner: Former Toronto Pan-Am Games CEO Ian Troop
After winning the provincial Teddy two years in a row, Alberta put forward a strong effort this past year, spending $45,000 to send Premier Alison Redford and an aide first class to South African for the funeral of former president Nelson Mandela. Nova Scotia failed miserably to make the Teddy grade, when its rookie premier Stephen McNeil expensed only $946.44 for the same trip.
"Riding to Alberta's rescue in 2014 was fired CEO of Toronto's 2016 Pan-American Games. Not only is the $2.5 billion event already $1.1 billion over budget, Troop added insult to injury, collecting $552,065 in annual salary, while expensing 91 cents for parking and $8,500 for a lavish party in Mexico," continued Thomas.
Local Teddy Winner: Vancouver's TransLink
Vancouver's accident and waste-prone regional transit authority (TransLink) stepped in it once again this past year, shelling out $4.5 million for a parking lot with a $2 toll that nobody ever uses. The CBC was able to identify a single user who chose the pricey lot because he knows his vehicle "will never get scratched."
Lifetime Achievement Teddy: The Senate of Canada
Last year's Lifetime Achievement Teddy went to the orange-juice swilling former Conservative cabinet minister Bev Oda, despite a strong case honouring the Senate of Canada. But with one former senator finishing off a jail term for fraud, another former senator and a suspended senator facing criminal charges, two suspended senators under police investigation, and dozens more dragging their feet on the auditor general's investigation of their spending, CTF supporters across the country gave the issue some sober second thought, and gave the Senate a Lifetime Achievement Teddy.
Other nominees included:
Department of National Defence: $14,000 for public-opinion polling to determine Canadians' beliefs about the powers of super heroes.
The School of the Public Service: $1.7 million as the federal agency tasked with teaching ethics to government executives was cited for five years of dubious and unethical contracting practices with insiders.
Hydro Quebec: $1.92 million (estimated) for unionized crane operators to play cards, watch television, and sleep at home, sometimes being paid double time on 12 hour shifts, while crane operators from Germany actually worked to build a hydro project. The scam was revealed at the Charbonneau commission hearings into the construction industry.
Nova Scotia's Department of Highways: doubled its budgeted estimate for road repairs while completing half the expected work, shelling out $275 a day for flag patrollers and more for crew members at higher pay grades.
Brampton, Ontario Mayor Susan Fennel topped up her $$213.727 salary – the highest in Canada, by expensing $2,162 for personalized barbeque aprons, $1,326 for Mandarin Chinese lessons, and $531 for hotel accommodation in Toronto – a short drive from Brampton – while taking the Chinese lessons.
City of Winnipeg Manitoba: A scathing audit slammed the city for building a fire hall on a developer's land without first securing the land. While bureaucrats had cobbled together a land swap deal they didn't secure city council's authorization first. Now, the fire hall sits on land owned by a private property developer, and taxpayers are facing an undetermined expropriation bill.
Click here for our detailed backgrounder on all 2014 Teddy award nominees.