7th Annual Teddies Waste Awards
February 28, 2005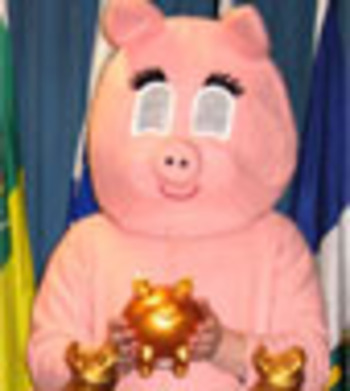 Taxpayers Honour Canada's Prison Boss Lucie McClung, Spudco, Toronto City Hall, and André Ouellet

Ottawa:The Canadian Taxpayers Federation (CTF) held its seventh annual Teddies Waste Awards Ceremony to honor the best of the worst in government spending at a black tie news conference today on Parliament Hill. CTF Federal Director, John Williamson, acted as master of ceremonies.

The Teddies are named for Ted Weatherill, a former senior public servant, who was terminated in 1999 for "expenses incurred by him - incompatible with his position as Chairman of the Canada Labour Relations Board," according to the Office of the Minister of Labour. In the spirit of the entertainment awards season, Teddies are awarded annually to a public office holder, civil servant, department or agency that most exemplifies government waste, overspending, over-taxation, excessive regulation, lack of accountability, or any combination of the five.

"It has been another runaway year for government waste," said Mr. Williamson. "In addition to the ongoing show at the Gomery Inquiry, our Teddies are an appropriate way to give the people who fleece Canadian taxpayers the recognition they so richly deserve."


Federal Nominees:
Most Expensive Screenplay - 308 Million-Dollar Babies: The story begins prior to the last election, when it takes only 15 minutes for government and opposition MPs to pass a bill to extend their medical insurance benefits. The drama builds as they contemplate taking a 10 per cent raise following the election, and many remain angry they will not receive the additional $15,000 salary increase. Yet lawmakers press ahead and, at year's end, quietly increase their office budgets by 20 per cent at an annual cost of $2.5-million. Personal allowances also jump by $5,000. Finally, the show delves back into recent history reminding audiences of Parliament's passage of a new Elections Act, which turned partisan politics into a taxpayer-funded welfare program by subsidizing political parties by $26-million per year. As the credits roll, MPs either defeated in the June 28th general election or who resigned prior to the vote are handed $7-million in severance and pension benefits.
Worst Film Adaptation of a Television Series - Trading Spaces (Rated C for Corrupt): Public Works officials accept "hospitality from Royal LePage in violation of government hospitality policy" prior to awarding a $1-billion government contract to the Toronto-based real estate company. In addition to Public Works employees accepting gifts, "members of the evaluation team from other departments did as well," says a government memo. In a dramatic twist the department is urged to "rapidly develop an Emergency Refresher Course on Ethics and Conflict of Interest." Movie critics suggest a more suitable ending would have been the firing of those officials.
Taxpayer Suspense Thriller - Enron by the Canal, The DND Chronicles: A sympathetic public is led to believe the Department of National Defense (DND) is a taxpayer-friendly institution squeezing every last penny from its meager budget to support the troops. Yet when a number of seemingly unrelated occurrences are pieced together it becomes clear this is another bureaucracy where no one is minding the store. Former employee Paul Champagne is sued by DND for allegedly stealing more than $100-million in a phony invoice scheme. The raid on the public purse was spotted too late despite intelligence indicating Mr. Champagne's Ottawa home is valued at over a million dollars, a second oceanfront mansion in the Turks and Caicos is worth $2-million, and a third home in Florida is on a golf course development. When Mr. Champagne was fired from DND in September, 2003, he earned $58,000 a year. Another audit discovers hundreds of National Defense offices waste between $23-million and $81-million each year due to questionable transactions and sloppy administration. A surprise twist: The 2005 budget allocates $13-billion to the Canadian Forces -- a sequel in the making
Best New James Bond Movie - An Appetite for Luxury: This shocker takes place between 2001 and 2003 and stars Lucie McClung as the Commissioner of the Correctional Service of Canada (CSC). McClung rings up $142,000 traveling to Hong Kong, New Zealand, Brazil, Barbados and Europe. In addition, taxpayers eat more than $9,000 in lunch and dinner bills for Ms. McClung and also pay her annual $500 Rideau Club membership fee. Meanwhile, felons are running Canada's prison system. In August, inmates are treated to a luxurious spa day, including pedicures, aromatherapy and afternoon tea on fine china all the while being serenaded by a classical harpist. Among the almost two dozen participants is a woman who tortured and murdered her seven-year old stepson, a woman who killed a Toronto police detective with a butcher's knife, and another who killed a child. A supporting CSC actor explains the spa day was "available to anyone who wanted to sign up" and defends the activities as a way for inmates to cope with stress.
The Canadian Aviators - The Can-Con Version but Howard Hughes Isn't Footing the Bill: The script begins long before the auditor-general criticizes Ottawa for ignoring its own contracting policies and spending $101-million to replace two Challenger jets in 2002. DND has six Challenger aircraft and, at the time of purchase, indicates it was "satisfied with the performance." Challenger logs indicate soon after entering cabinet, Justice Minister Irwin Cotler flew to Stockholm; Natural Resource Minister John Efford went east to St. John's and Montreal; (former) Agriculture Minister Bob Speller to San Jose; and (former) Defense Minister David Pratt flew west to Victoria. And in a dramatic pre-election blitz, the movie's star Prime Minister Paul Martin makes 28 cross-country trips - costing approximately $1-million - between January and May 23, when the election was called. The story ends with Mr. Martin touring North Africa in a Challenger jet with his family over Christmas. (Official DND estimates put the cost of operating a Challenger at over $2,000 per hour in the air, but the hourly price rises to $8,000 when crew, amortization, base support, and other costs are included.)
Federal Award Winner:

"And the federal Teddy goes to Lucie McClung, Canada's Prison Boss. Special thanks to all the cast members, many of whom won't be able to attend tonight's gala celebration-for another five to seven years," said Mr. Williamson as he unveiled the first 2005 Teddy, a beautiful golden sow.


Provincial Nominees:


Worst Taxpayer Tragedy - Lemony Saskatchewan's A Series of Unfortunate Events: A classic story about New Democrat Roy Romanow's desperate search for the "corporate welfare dream." In 1996, Premier Romanow and government bureaucrats at Saskwater (a province-owned utility) fueled by blind ideology decide the prairie province needs a homegrown potato industry. The wacky adventure unfolds as taxpayers are told the cost to build massive potato sheds will total a couple million dollars with the private sector footing 49 per cent of the bill. When the price balloons to $28-million the operation goes bust, and the public discovers they were misled. There are no private investors; Regina is on the hook for 100 per cent of the liabilities, and farmers who planted potatoes expecting they would get to market lose millions more. The movie ends in 2004 with a coalition of farmers and businesses successfully suing the government (read taxpayers) for $7.9-million, bringing losses to $36-million. No Saskatchewan politician is fired or held accountable for this monumental failure.
Worst Adaptation of Tax, Lies and Videotape: "I won't cut your taxes, but I won't raise them, either," says Liberal leader Dalton McGuinty to Ontario voters. The scene then switches to Mr. McGuinty signing a pledge during the Ontario election promising not to raise taxes or run deficits if elected to govern. Yet the introduction of a health tax in the Liberal government's inaugural budget angers millions of taxpayers and washes away the premier's credibility. To make matters worse, the government says it is unable to balance the budget - not now, and, quite possibly, never.
Most Expensive Suspense Thriller - Eyes Wide Shut: The story begins innocently when government-owned NB Power starts construction on a $747-million conversion of the Coleson Cove generation plant so it can burn Orimulsion, an oil product manufactured only in Venezuela. The plot thickens after NB Power commits $600-million to the project and pressure from OPEC nations forces Venezuela to pull the plug on Orimulsion production. The film then dramatically unveils that NB Power never bothered to sign a contract with Venezuela and instead began construction on the plant with only a memorandum of understanding. It is estimated the debacle could cost the Crown utility some $2-billion. We are told NB Power's response is a rate increase, an all too predictable ending.
Life is Beautiful-for Your Friends: Gary Mar, Alberta's former Health Minister (and current Minister of Community Development) hands over $400,000 of tax money to Conservative party insider Kelley Charlebois for "oral advice." The consulting contracts are awarded without a competitive bid and there are no reports, studies or other documents available to taxpayers - or the government - to determine whether there was any value for money. None of the 1,287 public servants in Alberta's Department of Health were able to provide Minister Mar with the "oral advice" he craved.
Provincial Award Winner:

"And the provincial Teddy goes to Saskatchewan's Spudco," said Williamson as he presented the second golden sow. "Regrettably for taxpayers, Mr. Romanow has since turned his attention to another project, namely ensuring Canada's health care system remains anti-choice, costly, and government-run."


Municipal Nominees:


Special Achievement in Tax Dollar Misdirection: A dramatic opening scene has Saskatchewan Health authorities turning over financial records of the Métis Addictions Council of Saskatchewan to the RCMP's commercial crimes unit in September 2004. The decision is based on the recommendations of a forensic auditor hired to investigate the Métis Addictions Council. The auditor questions the propriety of transactions spanning a two-year period. Some become part of a criminal investigation. A financial review indicates board members spent more than $600,000 on travel, while cutting back on staff, food and recreation for addicts receiving treatment. The Métis Addictions Council of Saskatchewan receives provincial and federal funding.
Fear and Loathing in Winnipeg:Opens with Winnipeg Regional Health Authority employees handing out crack pipes as "a harm reduction service." "We're not helping addicts have more drugs, we're helping them to be safer when they use," pleads leading actress Dr. Margaret Fast. "People who use crack are already doing it and they are often using very poor equipment, so we want them to be safe when they undertake this activity." Since the crack "safety" program began in August, the local health authority has handed out nearly 300 kits at a cost of $1.50 to $2.00 per crack kit.
A Timeless Classic - Hotel California: Taxpayers Can Never Leave: Fiscal responsibility Nope. Respect for taxpayers Sorry. Continued wasteful spending at City Hall Affirmative! You know your fiscal house is in rough shape when even Premier McGuinty takes a jab at your ability to spend and account for tax dollars. Yet Toronto City Council managed to accomplish this feat by spending almost a million dollars on motel rooms for the homeless, who never checked in. In November, 2004, the city's auditor reported that $853,000 was spent for emergency shelter beds that went unused. While local innkeepers are not complaining, taxpayers no doubt have a different opinion.
Worst Taxpayer Horror Film - How a Deposed School Trustee Came Back to Haunt Taxpayers in a Quaint Saskatchewan Community: Oxford dictionary defines "gratuity" as "money given in recognition of services rendered, a tip." The film's antagonist Jeff Alexander, Secretary Treasurer of the Davidson School Division in Saskatchewan, may be on the receiving end of the biggest tip in Canadian history. Mr. Alexander, a 32-year veteran bureaucrat, negotiates a severance package of one month's salary for every year of work to be paid in the event he is laid off. He resigns in 2004, collects $120,000 in what the School Board term a "retirement gratuity," is hired back the same day on a one-year personal services contract at his same salary, and begins collecting his pension. The film tosses out the old-style concept of double-dipping and introduces "triple-dipping."

Municipal Award Winner:

"And the municipal Teddy goes to Toronto City Hall," said Williamson. "Next year I won't be surprised if I'm handing Toronto an award for handing out smokes and booze to the homeless."




Lifetime Achievement Teddy - André Ouellet:



"A Lifetime Achievement Teddy is bestowed to André Ouellet for betraying the trust of Canadians with shady backroom deals, partisan deal-making, and for riding the government gravy train," said Williamson.

André Ouellet made a career out of frivolous spending of taxpayers' money, and living the high life. First elected to the House of Commons in 1967, Mr. Ouellet held a slew of cabinet posts under Pierre Trudeau and Jean Chrétien. Despite holding many cabinet portfolios and being one of the most senior Liberals in Quebec, Mr. Ouellet will be remembered most for his spending practices as head of Canada Post for eight years (from 1996-2004). Mr. Ouellet rang up $2-million in expenses without producing so much as a parking receipt, triggering an audit that forced his resignation and ended his prestigious career.

Using what he called the "honor system," Ouellet simply told the accounting staff at Canada Post what to pay him and they forked it over - no receipts, no list of expenditures, nothing. Money was spent predominantly on travel and hospitality expenses. As chairman of the board at Canada Post between 1996 and 1999, he spent 10 times as much annually as his successor. And as president, beginning in 1999, he spent four times as much as his predecessor. Although his expense account was a measly $1,000 a day, he somehow managed to scrape by.

He also graciously helped get jobs for over 80 of his friends, intervened in $35-million dollars worth of sponsorship contracts, and collected a $400,000 yearly salary, the highest in the federal civil service.

Perhaps most impressive is a luxurious "smoking chamber" he built behind the dining room on the executive floor of Canada Post's headquarters. While other employees trot outside for their cigarette break, Mr. Ouellet simply headed to the 12th floor. From 1995 to 2002, Mr. Ouellet was a founding member of the "Cigar Club," which included Alphonso Gagliano, Martin Cauchon, and heads of Quebec ad agencies named in the adscam sponsorship program. Membership certainly has its privileges. The "Cigar Club" attended NHL hockey games and went salmon fishing. These power brokers met monthly to smoke Havana cigars and sip expensive wines all the while discussing how tax dollars could be divvied up.

Mr. Ouellet resigned in disgrace in August, 2004, on the heels of a Deloitte and Touche audit severely critical of his spending practices. While he likely would have been fired as Prime Minister Paul Martin conducted his purge of Chrétien-era cronies, taxpayers remain indebted to Mr. Ouellet for all his "public service." He receives an annual taxpayer-funded pension estimated at $116,000, that is $83,000 from his years as an MP and minister, and another $33,000 for his years of service at Canada Post.