8th Annual Teddies Waste Awards
February 28, 2006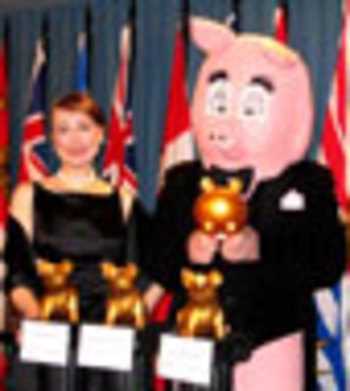 Taxpayers Honour Joe Volpe, City of Richmond, and David Dingwall

- 2005 Teddy Awards - 2004 Teddy Awards - 2003 Teddy Awards - 2002 Teddy Awards - 2001 Teddy Awards - 2000 Teddy Awards - 1999 Teddy Awards

OTTAWA: The Canadian Taxpayers Federation (CTF) held its eighth annual Teddies Waste Awards Ceremony to honour the best of the worst in government spending and high taxes at a black tie news conference today on Parliament Hill. CTF Ontario Director, Tasha Kheiriddin, acted as master of ceremonies.

The Teddies are named for Ted Weatherill, a former senior public servant, who was terminated in 1999 for "expenses incurred by him - incompatible with his position as Chairman of the Canada Labour Relations Board," according to the Office of the Minister of Labour. In the spirit of the entertainment awards season, Teddies are awarded annually to a government, public office holder, civil servant, department or agency that most exemplifies government waste, overspending, over-taxation, excessive regulation, lack of accountability, or any combination of the five.

"Sadly, 2005 has been yet another blockbuster year for government waste," said Ms. Kheiriddin. "Abusing the public purse at any level of government is unacceptable, and our Teddies are an appropriate way to give the people who fleece Canadian taxpayers the recognition they so richly deserve."


Federal Nominees:

1. Walk the Bar Tab -- Nominated For "Worst Taxpayer Film of the Year"

In a world where money is no object because other people are paying, taxis are free and there is always wine with dinner, Joe Volpe is right at home. For a time things were great for Joe. Staffers called Volpe a "grazer" because of his penchant for eating several taxpayer-funded restaurant meals a day. On March 21, 2005, Volpe and friends dined at Allegro to the tune of $507.39. Just a few hours later they ate again at an Italian restaurant for $80.14. Volpe also spent $138 on pizza for two one night and $207 a few nights later on pizza for three. In just a few short months Volpe and his staff racked up more than $60,000 in travel and hospitality. But Joe's wild ride takes a sudden turn at the film's end when the gravy train is halted in the station by angry taxpayers in January 2006.

The reviews are in:
"Small town cheap." -- Justice John Gomery

2. From the Producers of the Sponsorship Scandal comes CRASH: The Never-ending Sequel -- Nominated For: Worst Re-make of a Botched Taxpayer Horror Film

The opening scene has Public Works buying a building in the west end of Ottawa for $91-million in 2003 that it knew needed to be brought up to code. No problem. Public Works taps the federal treasury for another $81-million. But wait, the film reveals that the building is part of the Desmarais family business, whose son is married to former Prime Minister-Jean Chrétien's daughter. Hmmm.

As Marlon Brando exits his cameo, Public Works is back at it again in June 2005 cutting rent cheques of $575,000 for an empty building and no paper work. This time however the building is owned by Liberal Senator Paul Massicotte. While viewers are led to believe Senators are prohibited from government contracts the movie reveals that law was repealed only a month earlier. Hmmm.

The final Act has Public Works spending a cool billion dollars for a relocation contract for civil servants across Canada. The contract is awarded to Royal Lepage. But an audit reveals that a senior official in the judging process went on a Caribbean cruise with a Royal Lepage executive before the contract was awarded. Movie-goers are left wondering if this is just a coincidence.

3. Charlie and the Tattoo Factory -- Nominated For: Worst Adaptation of an Extreme Makeover

The setting is Manitoba's Rockwood Institution, a minimum-security prison that was one of six across Canada chosen to open a tattoo parlour as part of a $700,000 pilot project. Evidently Canada's jails are increasingly run by their prisoners as each tattoo parlour will be manned by inmates. One impressive scene has prison guards dancing with thieves and murderers as they line up to receive their taxpayer funded 'Mom' tattoos.

Meanwhile, victims groups are outraged, labeling the film "lunacy," and giving it two big thumbs down noting that tax dollars are not used to provide psychological counseling to victims. Despite the criticism, producers are already talking sequel: Rockwood Un-Redemption.

Federal Award Winner:

"And the federal Teddy goes to Joe Volpe, MP for Eglinton Lawrence. Special thanks to all the supporting actors, including pizza delivery boys, limo-drivers, and former ministerial staffers, many of whom won't be eating taxpayer-funded pizza pies, spaghetti dinners and Italian wine for quite some time," said Ms. Kheiriddin as she unveiled the first 2006 Teddy, a beautiful golden sow.


Municipal Nominees:

1. The Chronicles of Richmond: the Olympics, the Oval and Taxpayers -- Nominated For: Achievement in Budget Blowout and Political Junket Innovation

The reviews are in and taxpayers in Richmond are in utter shock. After winning the bid to build the 2010 Olympic speed skating oval, Richmond's local council has jetted around the world on 16 different trips at the "bargain" price to taxpayers of $460,000!! But the spending doesn't stop there. Construction has yet to begin on the $178 million facility and already $325,000 has gone to consultants, $500,000 to programming, $960,537 for site preparation and over $2.3 million for a design drawing. You can bet that this film is heading fast and furious to a budget blowout. Sixteen taxpayer funded trips and the Games are still four years away.

2. Brokeback Calgary -- Nominated For: Worst adaptation of a PR campaign

Calgary Mayor Dave Bronconnier's "Righting the Balance" campaign sets out to convince Calgarians that the city is flat-broke. Nonetheless the Mayor finds $100,000 under his seat cushions to pay for a glitzy advertising campaign to explain to citizens how they are grossly under-taxed. In addition to mailing out a glossy, full-colour householder lined with pictures of police officers and puppy dogs, the plot thickens as Mayor Bronconnier desperately takes out ads on radio and in newspapers to try and get the province to give more tax room, more provincial funds, and more tax powers to the City of Calgary. The movie leaves Calgarians hanging, not knowing if more taxes are coming or not.

Trailers for the sequel provide Calgary ratepayers no comfort. Highlights show Mayor Bronconnier sending yet another full-colour householder arriving in mailboxes across the city this time lined with pictures of His Worship hob-knobbing with premiers, former presidents, and pot-smoking country musicians. Movie critics ask where the broke city was able to find $82,000 for yet another mailer

3. Welfare Country (North) -- Nominated For: Best Post-Production Party with Extras

The City of Toronto, for throwing a $50,000 party for its welfare case workers at Roy Thompson Hall. In this tragedy, the city wants to "honour" its workers - but instead it gives taxpayers a slap in the face. Not to mention welfare recipients, who certainly can't afford an evening out at the swanky venue. And this from a city that complains it can't afford the downloaded costs of social programs The film concludes with Toronto Mayor David Miller asking the province for yet another multi-million dollar budget bailout, while irate taxpayers count down the days to the next municipal election.

4. Phantom of the Arts Budget -- Nominated For: Achievement in Theatrical Misdirection

This sad tale begins with the City of Winnipeg handing out $220,000 in bailout packages for the Burton Cummings and Pantages Theatres. 'Guess Who's' money they used Shortly after smiling for the cameras, the city realizes it doesn't have money for road repairs leaving prospective theatre-goers left wondering how they'll make it to opening night.

In the closing credits, as the city's roads are crumbling, instead of 'Running Back to Saskatoon', the City of Winnipeg will be running back to Mr. and Mrs. John Q Taxpayer. The critics all agree: "two-thumbs down."

Municipal Award Winner:

"And the municipal Teddy goes to the City of Richmond," said Kheiriddin. "If they handed out medals for wasting tax dollars, Richmond's city council would sweep the podium."


Lifetime Achievement Teddy - David Dingwall:
The Academy of Taxers and Spenders is pleased to present its Lifetime Achievement Teddy to David Dingwall. Mr. Dingwall has relied on a steady dose of tax dollars for most of his career. First elected to the House of Commons in 1980, Mr. Dingwall held various cabinet portfolios under Jean Chrétien, including Minister for the Atlantic Canada Opportunities Agency (ACOA) and Public Works. His constituents elected him leading actor three more times but finally sent him packing in 1997. "But that only whet his appetite for taxpayers' money even more," said Kheiriddin.

After his defeat, Mr. Dingwall remained an Ottawa insider as a lobbyist. One of Jean Chrétien's last acts as Prime Minister was to give his loyal friend a five-year appointment as President of the Royal Canadian Mint. Not only did this put Mr. Dingwall in charge of printing money, it seemed to give him a license to spend it as well. And at that, he was a natural.

Records show that in 2004, Mr. Dingwall and his top associates racked up $846,464 in expenses for wining and dining, traveling the globe, limousines rides, and country club memberships. Some of the gems included:
$133,037 in foreign and domestic travel
$14,487 in foreign and domestic dining (which included a Mint-staff dinner at a swanky Ottawa restaurant that cost $5,693)
$5,297 for golf membership fees
$5,998 for leased vehicles (including limousine services) despite having a car available for use from the Royal Canadian Mint
As head of the mint, David Dingwall was paid a paltry $277,000 a year - a salary that less than 1 percent of Canadians earn. No wonder public outrage followed when it was revealed that he still had the audacity to claim $1.09 for a newspaper, $1.79 for a bottle of water, $1.29 for a package of gum, and $6.04 for four Tim Horton's coffees and a donut.

Surely, Mr. Dingwall's disposable income provides him with the resources to pay for his own Dentyne, double-doubles and crullers Apparently not. Despite a $20 per-diem to cover such incidentals, Mr. Dingwall still attempted to have taxpayers foot the bill.

Mr. Dingwall also received $350,000 for his supporting role in helping a Toronto-based pharmaceutical company secure $17.2-million in financing and grants through an Industry Canada Program, despite rules forbidding "success fees."

The blatant disregard for taxpayers' money finally caught up with Mr. Dingwall in September, 2005 when the allegations of ethical lapses and questionable spending forced him to resign as head of the Royal Canadian Mint, but to taxpayers' dismay, this horror story gets worse.

While no one in the real world gets severance if they quit their job, David Dingwall is apparently the exception. When questioned about his expenses at a House of Commons committee, David Dingwall was asked whether he thought he should receive a severance. Mr. Dingwall uttered the now infamous, "I am entitled to my entitlements," enraging taxpayers further. But as his last film ends Mr. Dingwall is laughing when in late January, 2006 he is awarded $417,780 in severance.

In the closing credits it is learned David Dingwall will "Ding" taxpayers for years to come as his parliamentary pension is currently valued at over $77,000 per year and will pay him $1.9-million in lifetime benefits.

"Yes, David Dingwall is truly a taxpayer's worst nightmare and a worthy recipient of this year's Lifetime Achievement Teddy," concluded Kheiriddin.