Canadian Taxpayers Federation to Award its Highest Honour to Former Parliamentary Budget Officer Kevin Page
September 13, 2013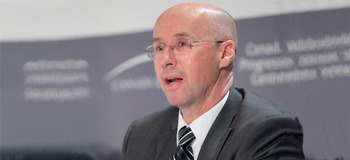 OTTAWA, ON: The Canadian Taxpayers Federation (CTF) announced that it will award its high honour, the TaxFighter Award, to former Parliamentary Budget Officer Kevin Page. (Photo Kevin Page: Flickr/Canada20120)
"In defending the independence of his office and upholding his duty to provide elected MPs with a more accurate understanding of how the federal government spends our tax dollars, Kevin Page won the respect of taxpayers, public servants and political leaders of all partisan persuasions," said CTF Federal Director Gregory Thomas.
"In honouring Kevin Page with the TaxFighter Award, we also honour the spirit of the Accountability Act reforms of 2006," Thomas continued. "And we underline the desire of Canadians for a truly independent Parliamentary Budget Office, respected and protected from partisan attack and intimidation."
Kevin Page became Canada's first Parliamentary Budget Officer in 2008 after serving in key roles in the Department of Finance, at Treasury Board, and in the Privy Council Office, as well as several line departments.
Under Page's leadership, the Parliamentary Budget Office's ground-breaking work on military procurement, personnel costs, and macroeconomic forecasting won the praise of the International Monetary Fund, and national legislative budget officers around the world.
Past TaxFighter Award honorees include tax-cutting former provincial premiers such as Ralph Klein of Alberta and Ontario's Mike Harris, and academics such as Michael Walker, the founding director of the Fraser Institute.
The CTF will honour Page during an evening reception on Wednesday, October 9th, 2013, at St. Brigid's Centre for the Arts – Home of the National Irish Canadian Cultural Centre.
The gala reception will feature remarks from Mr. Page as well as other special guests.
Attendees will also receive a signed copy of the all-new edition of the best-selling book Tax Me, I'm Canadian, by Calgary writer Mark Milke (Fraser Institute).
Tickets to the after-dinner reception are only $40 and can be purchased online here: http://taxfighter-eorg.eventbrite.ca/