City's liability for retirement bonus is enormous
August 17, 2018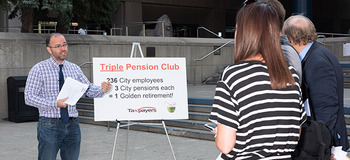 The Canadian Taxpayers Federation (CTF) released a freedom of information response from the City of Calgary today that shows taxpayers are on the hook for $73 million in goodbye bonuses for retiring city employees (approximately $120 per household).
In June, the CTF blew the whistle on how retiring city employees received a bonus that averaged $10,814 in 2017. The bonus is simply based on the number of holidays that employees receive each year and is provided without any connection whatsoever to an employee's performance.
"Had the City of Calgary eliminated this costly perk decades ago, taxpayers wouldn't be on the hook for $73 million in goodbye bonuses," said CTF Alberta Director Colin Craig. "It's time for council to take action as the administration will never recommend cancelling their own lucrative benefit."
The city's $73 million benefit liability (2017) is up from $61 million in 2014 – a 19 per cent increase in just three years. The annual cost for this benefit is approximately $8 million. The CTF asked the City of Calgary on May 25 for analysis on the effectiveness of the benefit, but has yet to receive a response.
"Some city officials may try suggest the situation isn't a problem as the city is putting aside money each year to pay for this benefit," added Craig. "However, the bottom line is that taxpayers are paying the bill. This is just another example of costly spending that the city could cut instead of raising taxes."
To see the freedom of information response – click here