CTF Launches Fibber, the 'Honesty in Politics' Mascot
September 12, 2007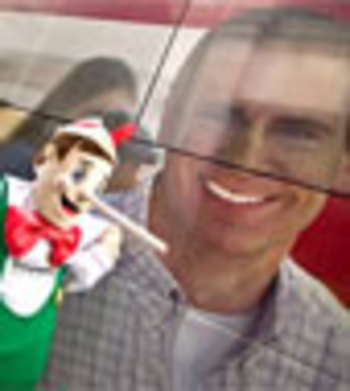 Toronto: The Canadian Taxpayers Federation (CTF) today extended its "Honesty In Politics" campaign during the Ontario provincial election with the launch of Fibber, the new 'Honesty' mascot. CTF Ontario Director Kevin Gaudet said, "Dalton McGuinty says he wants to run on his record. Fibber will help remind voters that he broke a key campaign promise not to raise taxes without a referendum."

Fibber made his inaugural appearance today at a Dalton McGuinty campaign stop in Toronto. Mr. McGuinty may expect to see more of the mascot during the campaign as Fibber goes on tour around Ontario to remind voters of the importance of politicians keeping their word. The CTF "Honesty In Politics" campaign is a result of Dalton McGuinty breaking the CTF Taxpayer Protection Promise.

On September 11, 2003, Dalton McGuinty signed the CTF's pledge that stated, "I, Dalton McGuinty, leader of the Liberal Party of Ontario, promise, if my party is elected as the next government, that I will: Not raise taxes or implement any new taxes without the explicit consent of Ontario voters and will not run deficits. I promise to abide by the Taxpayer Protection and Balanced Budget Act."

Gaudet concluded, "Voters should not reward politicians who do not keep their word".



---

- 30 -

For further information please contact: Kevin Gaudet 416-725-0501