CTF Names Three to TaxFighter Honour Roll
December 17, 2007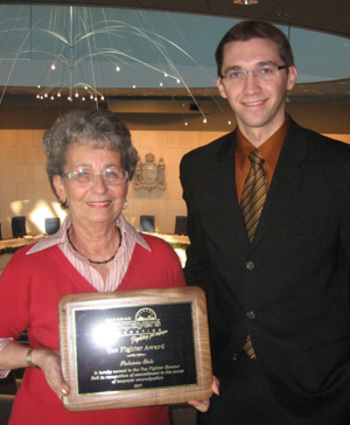 Recognizes National Post & Edmonton Journal columnist Lorne Gunter, Winnipeg Sun columnist Tom Brodbeck, and Edmonton senior Patricia Ehli
OTTAWA: The Canadian Taxpayers Federation (CTF) today released the names of the three recipients of its TaxFighter Award for 2007. The three recipients are National Post and Edmonton Journal columnist Lorne Gunter, Winnipeg Sun columnist Tom Brodbeck and Edmonton senior Patricia Ehli.

All three were recently presented with their awards and will have their names added to the CTF's TaxFighter Honour Roll. CTF National Communications Director Troy Lanigan and CTF Alberta director Scott Hennig presented Mr. Gunter and Mrs. Ehli their awards in Edmonton. CTF CEO Ken Azzopardi and CTF Manitoba director Adrienne Batra presented Mr. Brodbeck his award in Winnipeg. Mini-biographies of the three TaxFighters are here.

"While the award has previously been given out occasionally, 2007 marks the first year recipients will be named annually. The award is the CTF's highest recognition for individuals who have demonstrated an outstanding commitment to the cause of taxpayer emancipation. This year's recipients certainly fit that bill," said Lanigan. "While the CTF often criticizes governments, it's equally important that Canadians be reminded many citizens, from every walk of life, champion the taxpayer by blowing the whistle on waste, high taxes and corruption. They deserve to be recognized. They deserve to be commended."

"Columnist Lorne Gunter has emerged as one of the country's most articulate advocates of smaller government," continued Lanigan. "Lorne is also one of the few writers in Canada openly challenging conventional orthodoxy when it comes to the costly solutions surrounding the so-called 'climate-change crisis.' His opinions are bold and consistent."

"Tom Brodbeck is relentlessly hounding the Winnipeg and Manitoba governments to reduce government waste, lower taxes and be more accountable," stated Lanigan. "Whether it's his biting columns on corporate welfare, a need for an increased basic personal exemption or exposing fat cat salaries for bureaucrats, Tom is one of the province's fiercest and consistent advocates on behalf of taxpayers."

"Patricia Ehli is a more recent tax fighter, joining the ranks after becoming angered with Edmonton city council over their 21 per cent pay hike," said Lanigan. "In addition to collecting some 1,200 signatures on a pay hike petition herself, Mrs. Ehli has continued to be a thorn in council's side showing up at public budget hearings to oppose large property tax hikes. Mrs. Ehli has become a bit of a media celebrity in Edmonton and demonstrates to citizens across Canada that you can fight City Hall."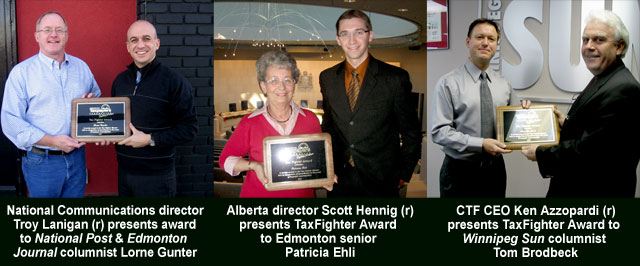 For more information, contact Troy Lanigan at (250) 881-1131.
Nominations were received from CTF supporters. Final decisions were determined by CTF staff.