Doug Ford keeping carbon-tax promise to Canadian Taxpayers Federation
June 15, 2018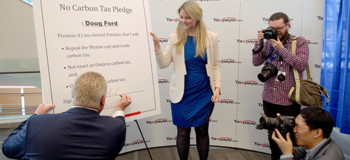 Premier-designate Ford announced his cabinet's first act will be to cancel cap-and-trade and to challenge the federal carbon tax
Ford made this promise to Canadian Taxpayers in a public pledge signing on

 

February 10
TORONTO, ON: Today Premier-designate Doug Ford announced he is keeping his promise to taxpayers by making the first act of his new cabinet to cancel cap-and-trade and challenging the federal carbon tax.
On February 10, Mr. Ford signed a pledge with the Canadian Taxpayers Federation (CTF) committing him to both these policy moves.
"We are absolutely thrilled that Premier-designate Ford is making ending the cap-and-trade cash grab and challenging the Trudeau carbon tax his first moves. This shows his absolute commitment to taxpayers that he cares about saving money for hardworking families," said CTF Ontario Director, Christine Van Geyn.
The CTF has used pledge-signing opportunities in the past to pressure politicians to take clear public stands on issues of importance. All four Ontario PC leadership candidates signed the CTF's no-carbon-tax pledge. 
"Yesterday we called on Doug Ford to make ending the carbon tax his government's first move, and we could not be any happier about his announcement today," continued Van Geyn. "The carbon tax is a new tax designed to keep going up and up, taking more and more money away from families who can't afford it, while achieving nothing for the environment. All this will only achieve sending billions of our hard-earned dollars to Quebec and California. Mr. Ford made the right move today, and it's a move he has a mandate from voters to make," concluded Van Geyn.
To download high-resolution photos of Doug Ford signing the CTF's pledge, click here and here.