FED: 12th Annual "Teddies" Government Waste Awards
March 10, 2010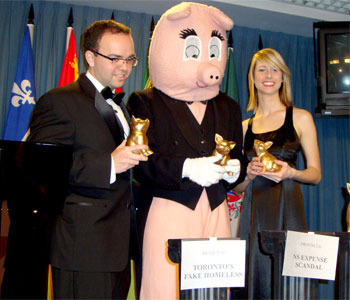 MP junk mail, outrageous Nova Scotia MLA expenses, the City of Toronto's homeless audit and gold-plated MP pension plans are this year's winners
VIEW THE LATEST MEDIA COVERAGE
OTTAWA: The Canadian Taxpayers Federation (CTF) held its 12th annual "Teddy Waste Awards" ceremony to recognize the best of the worst government waste.  CTF Prairie director, Colin Craig, acted as the master of ceremonies today at the black tie news conference on Parliament Hill.  "Porky the Waste Hater" (pig mascot) and guest hostess Natasha assisted with the ceremony.
The "Teddies" award ceremony is named after Ted Weatherill, a former federal bureaucrat who was fired for outrageous expenses in 1999.  Each year the CTF holds the ceremony to recognize a government, public office holder, civil servant, department or agency that most exemplifies government waste.
"We hold the ceremony each year to educate the public about government waste and highlight fat that needs to be trimmed," said Craig.  "The event also helps hold bureaucrats and politicians accountable for their decisions."
The 2010 Teddy winners are:
Federal Award Winner:  MP Junk Mail
"And the federal Teddy goes to...Members of Parliament for their junk mailer program.  The federal mail-out program allows MPs to send flyers to no more than 10 per cent of the households any riding in the country. The flyers are in addition to riding-wide MP flyers and have increased in cost from $5.9 million in 2005-06 to $10 million in 2008-09. Oddly enough, as our deficit skyrocketed, MPs hiked up their usage of these flyers to tell us about everything but the deficit." said Craig.
Provincial Award Winner: Outrageous Nova Scotia MLA Expenses
"And the provincial Teddy award goes to...Nova Scotia's MLAs for their outrageous MLA expense claims. A scathing audit on MLA expenses between 2006-2009 revealed the maritime MLAs had expensed just about everything under the sun. The all-star from the scandal was Len "The Master of Multitasking" Goucher for expensing 11 computers, 12 printers, 5 digital cameras, 4 video cameras and the Xbox game Dance Dance Revolution over a three-year period." commented Craig.
Municipal Award Winner: City of Toronto's Homeless Audit
"And the municipal Teddy goes to...the City of Toronto for paying people to pretend to be homeless. The city conducts a 'homeless audit' each year and to assist in the audit they decided to pay people $100 to dress up and act homeless in the streets of Toronto. Designed to help the city get count its homeless people, it was actually a slap in the face to real homeless people as they were banned from applying for the work," said Craig.
Lifetime Achievement Teddy: Gold-plated MP Pensions
After the suspense built for everyone's favourite category, Craig announced the final award, "And the Lifetime Achievement Teddy goes to…the gold-plated MP pension plan. For years Canadians have heard about quite possibly the richest pension plan in the country – the one Members of Parliament decided to award themselves. Unlike most pension plans, MPs are eligible for a minimum pension of $46,000 after just ten years of service and it skyrockets from there. Every candidate seems to hate it until it's offered to them," said Craig. "When will it end?"
Other nominees included:
Federal – $1.5 million for unused hotel rooms at the Francophone Summit in Quebec
Federal –Public Works staff accidentally sold off Queen's silver for $4,000 then spent nearly $100,000 to get it back
Federal – $1.4 million spent by mint to discover $20 million of 'missing gold' not really missing
Federal – Peguis Reserve Band Council paid taxable equivalent salary of $295,000 to $439,000
Newfoundland Government – One MLA expensed $30,000 in annual cell phone bills
British Columbia Government – Paid 241 civil servants to "volunteer" at the Olympics
Ontario Government – $1 billion eHealth boondoggle
City of Calgary – Councillors spend $6,700 on dry cleaning bills
City of Winnipeg – Councillor expensed a $739 satellite radio and subscription
City of Edmonton – $1.4 million "promo web site" only attracts 53,000 visitors from outside Edmonton - $26 per web visitor
To view the full description of all thirteen nominees and the lifetime achievement award winner, click here.
Photos from The Teddies

 

Prairie director Colin Craig was Master of Ceremonies

 

Lots of media in attendance!

 

Natasha - Our Model

 

Porky the Waste Hater

 

More media

 

Colin, Porky and Natasha