First Nations activist forces Onion Lake Cree Nation to provide financial transparency
April 30, 2018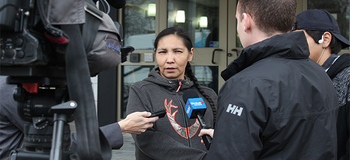 REGINA, SK: After multiple wins in court, Charmaine Stick, an activist from Onion Lake Cree Nation, and the Canadian Taxpayers Federation (CTF) have successfully forced Onion Lake's leaders to publish the band's basic financial information. (Photo: Media interviewing Charmaine Stick at April 30, 2018 announcing the release of the Onion Lake Cree Nation Financial Documents)
"I was so excited to read the financial statements, but then I'd get so mad I'd have to take a break and cool off," said Stick. "Our chief gave himself a nice raise while lots of people on the reserve are struggling. Now that we have the numbers, our leaders are going to have to start answering tough questions."
The documents show that Chief Wallace Fox made $123,000 in 2015 and got a raise of $27,692 for a total of $150,692 in 2016. The national average for a chief's salary is $58,856.
Onion Lake Cree Nation is on border between Saskatchewan and Alberta. There are 6,360 members of the Onion Lake Cree Nation with 3,893 living on reserve. The average income is $17,528.
The documents also show the band invested $1 million in a technology partnership and another $404,795 in a technology corporation. Both investments were written down to a value of $1 each. While the documents don't specify the nature of the failed investments, the timing and amounts correlate with Chief Fox's controversial decision to invest in a troubled New Zealand tech company.
Chief Fox has consistently refused provide financial transparency. He went to court to block The First Nations Financial Transparency Act which requires bands to publish consolidated financial statements as well as the salaries and expenses paid to chief and council, even though 99 per cent of bands have published financial documents as required. The federal government stopped enforcing the act in 2015.
The CTF partnered with Stick to launch a court application to get her leaders to publish basic financial documents as required by The First Nations Financial Transparency Act.
The Court of Queen's Bench for Saskatchewan ruling issued on June 15, 2017, ordered Onion Lake to publish basic financial documents, but band leaders appealed. On Mar. 26, 2018, the Court of Appeal unanimously upheld the decision requiring transparency.
"Charmaine Stick and every other grassroots member of every First Nation in Canada has the right to know what their leaders are doing with their money," said Todd MacKay, the CTF's Prairie Director. "The Court of Queen's Bench and the Court of Appeal have upheld that right and so will any other court in the country. 
"Charmaine's gone to band meetings, she's gone on a hunger strike, she's gone to court and we're so proud that she's now gotten these documents to show her neighbours so they can hold their leaders accountable."