Government must come clean about Yarmouth ferry costs
July 16, 2019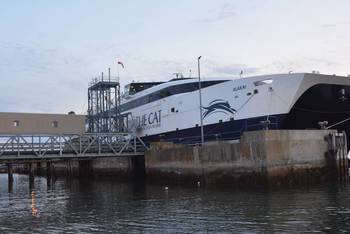 HALIFAX, NS: The Canadian Taxpayers Federation is calling on the Nova Scotia government to reveal the total costs of the Yarmouth ferry service this year in light of recent news that Bay Ferries has cancelled all existing bookings for this season.
"The Yarmouth ferry is sinking millions of dollars from Nova Scotians every year," said CTF Atlantic Director Paige MacPherson. "Now the ferry may not even sail this season, leaving taxpayers without even a negligible return on that spending."
The government budgeted $13.8 million in operating subsidies for the ferry this year, and $8.5 million to renovate the U.S. terminal in Bar Harbor, Maine.
"Taxpayers deserve to know whether all of those millions are going to be lost even though there's a good chance the ferry won't sale at all this year. The clock is running out and taxpayers are at the end of their rope with the government's blank cheque to Bay Ferries," said MacPherson.
The Nova Scotia government says it could not have predicted how the U.S. government is handling the Bar Harbor-to-Yarmouth ferry file. Reportedly, the government was expecting the U.S. department to be more "forgiving" when it comes to compliance with rules and regulations. However, Global News reported in December of last year that U.S. government officials said it would be unlikely a terminal would be ready in time for this year's sailing season.
Now, the government says if the ferry sails even once this year, it would be productive.
"The government has set an unimaginably low bar for this ferry service," said MacPherson. "And the ferry service may not even meet that paltry standard."
Nova Scotia taxpayers are still paying Bay Ferries' expenses and management fees this season. The government is going to court to keep the financial details of those management fees secret from the public. The Nova Scotia government has not provided taxpayers with a breakdown of costs and revenues related to the Yarmouth ferry spending.
"Either the government knows how much the ferry is costing and how much it brings in and is keeping those numbers a secret – or the government has no idea about the specifics of this major expenditure," said MacPherson. "Either way the government needs to come clean and taxpayers can decide which is worse."
The Canadian Taxpayers Federation launched a petition calling on the Nova Scotia government to shut down or sell the Yarmouth ferry. It can be viewed here.
—30—