New Brunswick taxpayers losing billions due to a lack of pipelines like Energy East
May 29, 2019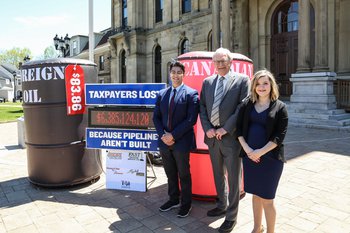 FREDERICTON, NB: Today the Canadian Taxpayers Federation is bringing its cross-country tour to Fredericton to show how much money taxpayers are losing because Canadian oil is sold below full value due to a lack of capacity from pipelines such as Energy East. The tour features a large digital clock displaying losses going up in real-time. The CTF's analysis shows the federal government lost $6.2 billion between 2013 and 2018 and that number is going up by $3.6 million per day.
New Brunswick Premier Blaine Higgs spoke at the event to support pipeline development.
"Getting our resources to market and building a pipeline such as Energy East would mean good, well-paying jobs here in New Brunswick and the opportunity to refine Canadian oil at Canada's largest refinery, here at home in Saint John," said Premier Higgs. "Getting these projects going can help strengthen New Brunswick and Canada."
Canada isn't getting full value for our oil due to a lack of pipeline capacity to reach foreign customers. Based on data released by the Office of the Parliamentary Budget Officer, the CTF calculated how much additional revenue the federal government would receive if Canadian oil sales received full value compared to the American price of oil.
"We are bringing our tour here to Fredericton to show that we're losing billions of dollars and many important services because we can't get pipelines built," said the CTF's Atlantic Director, Paige MacPherson. "The construction of the Energy East pipeline would have meant more tax revenue, a stronger economy and many more jobs for New Brunswickers."
The lack of pipeline capacity cost the federal government:
$6.2 billion between 2013 and 2018; and,
Another $3.6 million per day (based on projected loses of $6.6 billion between 2019 and 2023).
These figures only account for direct losses to the federal government and don't include lost job opportunities, smaller household incomes, foregone revenue to energy companies and other costs to the Canadian economy due to a lack of pipelines. According to economic analysis by Deloitte, the Energy East pipeline project could have created thousands of jobs in New Brunswick.
Here are a few examples of the potential benefits for taxpayers if increased pipeline capacity captured full value for Canadian oil from 2013 to 2023:
"We are losing out on hospitals and teachers while we're paying higher taxes because we aren't getting full value for our resources," said the CTF's Alberta Director, Franco Terrazzano. "From East to West, all Canadians are made better off when governments allow job creators to build pipelines."
The Canadian Taxpayers Federation's tour is visiting every province to show how much money taxpayers are losing because governments are getting in the way of pipeline construction. You can find the analysis here.
— 30 —