On Gas Tax Honesty Day, Taxpayers Federation Calls on Wynne to Reverse the New Carbon Tax
May 19, 2016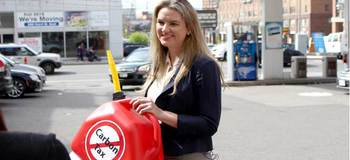 TORONTO, ON: The Canadian Taxpayers Federation (CTF) is calling on the Wynne government to stop the carbon tax, which will hike the price of already expensive and highly taxed gasoline by an additional 4.3 cents per litre. The cost of the Ontario carbon tax was highlighted as part of the CTF's 18th annual Gas Tax Honesty Day, with press conferences held across the country from Vancouver to Fredericton.
"A few extra cents per litre may not sound like much, but it adds up quickly. The carbon tax means that 39 per cent of the cost of gas at the pumps will be taxes," said CTF Ontario Director Christine Van Geyn. 
The CTF's annual Gas Tax Honesty report shows that taxes make up most of the price difference at the pump from province to province, and even city to city. Alberta and Saskatchewan have the lowest gas prices because they have the lowest gas taxes and Vancouver and Montreal have the highest prices because they have the highest gas taxes – although with the carbon tax Ontario will soon move up as the province with the 5th highest gas taxes as a percentage of the bill.
"The carbon tax, passed at Queen's Park yesterday, is going to make life more expensive in Ontario. The great irony is that the money Wynne is squeezing out of drivers at the pumps and all Ontario families is going to be spent on schemes that make life even more expense," said Van Geyn. "Leaked documents have revealed that the government has a $7 billion secret plan to force all Ontarians to buy expensive electric home heat. What money from the carbon tax is left over is being spent on subsidies to businesses, rebates for luxury super cars, and money to let bureaucrats work from home. This plan needs to be stopped."
The CTF has a petition available at taxpayer.com calling on Wynne to stop the carbon tax.
You can download a copy of the CTF's Gas Tax Honesty report HERE.