Ottawa's Bloated $263 Million Spin Doctor Bureaucracy
July 27, 2014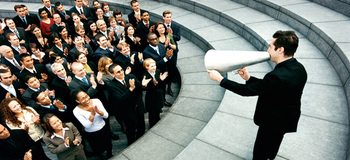 OTTAWA, ON: The federal government's roster of media spin doctors seem to be holding up well in the face of the Harper government's campaign to eliminate 19,000 positions from the public service, according to figures obtained by the Canadian Taxpayers Federation (CTF) under the Access to Information Act.
The ranks of Information Services staff in the federal core public service currently stand at 3,325, with total spending on communications staff forecast at $262.7 million in the current fiscal year.
While the headcount of communications staff is down from the peak of 3,824 reached in 2010, it's still higher than the 3,163 information services staffers who were on the payroll in 2006, when the Harper Conservatives took office, vowing to end the waste and profligacy of the Chrétien era.
"Journalists now have the punch line to the Ottawa version of the riddle: 'how many government communications staff does it take to spin a journalist'," said CTF Federal Director Gregory Thomas.
The federal communications payroll is heavily concentrated in the national capital region, where 2,656 employees take home $211 million, averaging just shy of $77,000 in annual salary.
The figures don't include communications staff at independent tribunals, the RCMP, the military, and the Canada Revenue Agency.
"When you compare the payroll of unelected federal spin doctors at $262 million to the payroll of the House of Commons – all of our elected MPs and all their staff – at $329 million, the costs are seriously out of line," said Thomas.
While overall spending on communications staff is down from its peak of $281 million in 2010, it's still $48 million more than when the Harper Conservatives took office in 2006.
"Canadians shouldn't need to battle an army of spin doctors to get answers from the federal government," said Thomas. "Canadians shouldn't need to wade through mountains of censored Access to Information releases."
For detailed communication staff head counts and spending by province, click HERE.