Saskatoon not immediately pursuing new taxation powers, but considering options
April 20, 2018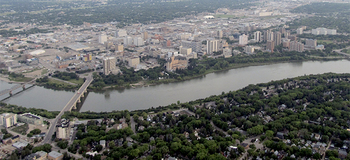 REGINA, SK: The Canadian Taxpayers Federation (CTF) is pleased to learn Saskatoon City Hall has no immediate plans to implement new taxation powers, but remains concerned that new taxes may be coming. (Saskatoon Credit: Drm310/Wikipedia/Creative Commons)
"The last thing taxpayers need is for Saskatoon City Hall to start imposing new taxes," said Todd MacKay, Prairie Director for the CTF. "When rumours surfaced that cities were looking at new taxation powers, we wanted to get to the bottom of it.
"Based on our conversations with city hall, we have good news and bad news: Saskatoon says it has no immediate plans for new taxation powers; but, it's studying options that could include new taxes."
Media reports in February suggested the City of Regina is considering asking the Saskatchewan government to grant it new taxation powers.
The CTF submitted freedom-of-information requests regarding new potential taxation powers for cities. The City of Saskatoon did not provide any documents. The City of Regina provided a document entitled: Mayor's Briefing Issues Note – New Revenue Generation Options for Cities. The document analyzes options, including:
Municipal gas taxes that would cost Regina taxpayers $13 million;
Vehicle registration taxes ($8.1 million);
City income tax ($12.3 million);
City sales tax ($35 million); and/or,
Hotel occupancy tax ($3.6 million to $6 million).
The Regina documents note these changes would require the provincial government to make legislative changes. The document concludes with next steps asking administration to do further analysis for budget discussions. The full document is available at this LINK.
The City of Regina provided a statement.
"The City of Regina notes that the exploration of alternate revenue sources is part of a national conversation for municipalities across the country through Federation of Canadian Municipalities and the Big City Mayors Caucus, not just for the Saskatchewan Urban Municipalities Association and Saskatchewan municipalities," stated Regina City Hall in a written response. "The City of Regina is not actively pursuing any additional taxing authority."
The CTF also asked the City of Saskatoon for its position.
The City of Saskatoon responded that it does not have any immediate plans regarding new taxation powers and there have been no proposed taxation powers identified, but the city is conducting an audit of revenues and evaluating all options.