Taxpayers Federation calls for lower taxes and less debt in P.E.I. 2019-20 Pre-Budget recommendations
February 20, 2019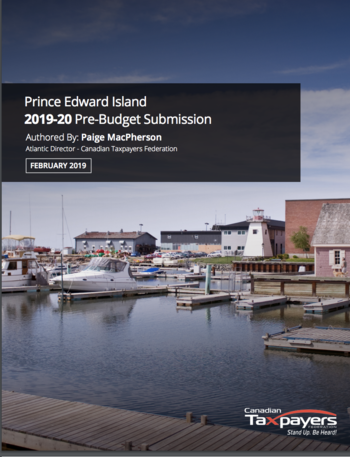 Lower taxes to attract job creators and new residents
P.E.I.'s spending as a share of GDP is highest in Canada
Debt interest payments cost more than $345,000 per day
HALIFAX, N.S.: Today the Canadian Taxpayers Federation released its 2019-20 Pre-Budget Submission for the Prince Edward Island government.
"The Prince Edward Island government has the opportunity to set the province on a more sustainable path by reducing the significant debt burden Islanders are carrying," said CTF Atlantic Director Paige MacPherson. "We commend the government for balancing its operational budgets, but the debt is still growing."
P.E.I.'s debt is over $2.2 billion and growing. Debt interest payments cost Islanders $126 million in 2018. That's more than $345,000 per day.
The Canadian Taxpayers Federation's pre-budget submission calls for lowering taxes for working Prince Edward Islanders of all income levels and the elimination of the carbon tax. P.E.I. taxpayers pay some of the highest taxes in Canada, with the highest sales tax in the country, the highest business taxes and among the highest small business taxes, even after the recent reduction.
"Research shows that reducing P.E.I.'s business taxes would actually bring in more government revenue by spurring economic growth," said MacPherson. "With a shrinking provincial tax base to pay for important services, it's crucial that the government attracts new taxpayers – while also delivering much-needed tax relief to Islanders."
The CTF's Prince Edward Island 2019-20 Pre-Budget Submission can be read here.
—30—