Time to Remind Prentice of How Klein Did It
February 03, 2015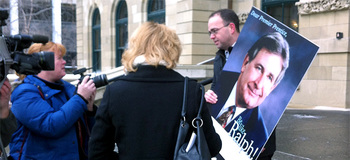 CALGARY, AB: As part of its push to convince Premier Jim Prentice to cut wasteful spending instead of raising taxes and racking up debt, the Canadian Taxpayers Federation (CTF) urged Albertans today to send the current premier a picture of former Premier Ralph Klein.
"Ralph Klein was loved by many Albertans because he made tough spending decisions, paid off the debt and created Alberta's low tax environment," said CTF Prairie Director Colin Craig. "People should send Premier Prentice a picture of Ralph Klein and deliver a friendly, but firm message – 'this is the type of Premier we want you to be.'"
To make it easy for Albertans, the CTF set up www.BeLikeRalph.ca - a website that includes a picture of former Premier Klein. People can print off the picture, fill in their info and then email, mail or fax it to Premier Prentice's office – click here.
Craig noted that if the Alberta government merely closed the spending gap with B.C., there would be no need to talk about raising taxes or running a deficit in 2015. The CTF calculated per capita spending last year as follows:
Alberta:                     $10,754
British Columbia:     $8,857
"Balancing the budget without raising taxes doesn't require anything radical," added Craig. "All it requires is for the provincial government to get its spending down to the same levels as British Columbia. Obviously the sky hasn't fallen next door."
The CTF also released a YouTube clip to support this effort:
-30-
Contact: Prairie Director Colin Craig @ 204-227-5561.