You're Already Out of Time to Read the Income Tax Act Before Filing Deadline: CTF
May 04, 2015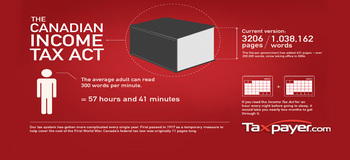 Current version of the 

Income

 

Tax

 Act is 3,314 pages long - more than a million words
The Harper government has added 739 pages - over 210,000 - since taking office in 2006
OTTAWA, ON: The Canadian Taxpayers Federation (CTF) is reminding Canadians that while they may have received an extension on filing their taxes this year, with only about 36 hours remaining to Tuesday's midnightdeadline, it's already too late to try and read the federal Income Tax Act. That's because it's 3,314 page long – that's 1,047,115 words – and would take the average reader more than 58 hours to read (not that many would want to).
"There is no doubt that our tax system has become even more complex under this government," said CTF Federal Director Aaron Wudrick. "This is particularly unfortunate given the many ways they could have instead cut taxes simply and fairly – for virtually all Canadians."
First passed in 1917 as a "temporary measure" to help cover the cost of the First World War, Canada's federaltax law was originally 11 pages long. By 1948, it had grown to 88 pages. After a series of amendments and reforms in the 1960's, many complained that the 1970 edition, at 424 pages, was too complicated for the average Canadian. Last year the Income Tax Act was 3,206 pages long. It has increased by 3.4 per cent over the past 12 months.
"Going forward, this government needs to move towards a simpler system," said Wudrick. "We could eliminate thousands of pages from the Income Tax Act, cut the number of tax brackets, and cut tax rates for everyone."
- 30 -
For word counts for the Income Tax Act, click here.
For the number of Income Tax Act amendments passed each year since 1917, click here.
For a graph of Income Tax Act page lengths, click here.
For an infographic showing how long it would take to read the Income Tax Act, click here.