CTF 2017-18 Pre-Budget Submission to the Government of Alberta
February 02, 2017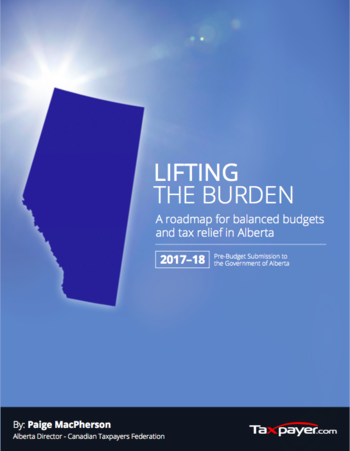 Lifting the Burden: A roadmap for balanced budgets and tax relief in Alberta is the Canadian Taxpayers Federation's 2017-18 pre-budget submission to the government of Alberta. 
Alberta taxpayers are currently paying over $1 billion annually in debt interest payments, and that number will double, reaching $2 billion by 2018-19. Alberta's $28.4 billion debt is rolling in at a rate of $355.44 per second. 
The CTF's submission calls for a 15 per cent program spending cut to save $7.8 billion and makes the following recommendations:
Introduce a legislated spending cap limiting program spending increases to the rate of inflation and population growth
Reverse the push toward government-subsidized daycare
End all corporate welfare in the province
Reduce the number of government employees by 10 per cent to save $2.56 billion
Implement a 10 per cent salary reduction for government employees
Cut MLA salaries by 10 per cent allowing pay to remain over $114,000
Reform government employee pensions
Reduce MLA and government employee mileage rates
The CTF's pre-budget submission also calls on the government to: 
Ban partisan advertising
Bring back the single-rate income tax
Say no to new tax powers for cities, at least without citywide referenda
Say no to taxpayer money for a pro sports arena in Calgary
Budget for disaster and emergency relief according to reality
Click here to read the submission.