Pharmacare 2020: The CTF's Vision
March 01, 2013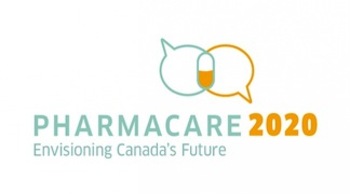 The following is the text of a speech given by B.C. Director Jordan Bateman to the B.C. Pharmacare conference in Vancouver, February 27, 2013. For a PDF of his slides, click here.
Good morning. Thanks for having me.
I won't stand up here today and profess to be an expert in pharmaceuticals. I'm not a doctor, I'm
not a scientist, I'm not a pharmacist.
But in my work as the B.C. Director of the Canadian Taxpayers Federation, I am an expert in exposing government waste, in battling bureaucracy, in holding elected leaders in Ottawa and Victoria to account. We've been fighting this fight on behalf of taxpayers for nearly 25 years, and have saved Canadian taxpayers countless billions of dollars through our advocacy work. We at the Canadian Taxpayers Federation are certified government wastebusters.
We have seen government programs, especially at the federal level, spiral out of control again and again.
Which is why we believe very strongly that there should never be a national Pharmacare program.
I know this flies in the face of a lot of what has been said here. But the federal government – of all political stripes – has proven itself incapable of managing programs effectively and efficiently. Some examples:
Back in the 1990s, the federal government decided Canada needed a long gun registry. The cost to taxpayers was estimated to be $2 million. By the time it was finally scrapped in 2011, the total cost had topped $1.2 billion.
The MP pension plan was always calculated by the politicians as costing taxpayers $5.80 for every dollar they put in. The actual total, before the plan was reformed this year, was $23 for every $1 – a quarter of a billion dollars.
The F-35 fighter jets were supposed to cost Canadian taxpayers $9 billion. Before the program was suspended for a review, the independent Parliamentary Budget Office estimated the true cost at $45 billion.
So forgive us if we don't join the rush to create a national Pharmacare plan. We've seen this movie too many times before to believe that bigger is better when it comes to government. We believe the best path forward for both Pharmacare and taxpayers is to remain in the hands of the provinces – with more participation by the private sector.
Roughly three in five Canadians are covered, to some extent, by a private drug plan. This is why governments pay roughly half of all prescription drug costs, while private insurers pay another third or so.
Not everything and everyone is covered, but the basic model is there, and working for those who have access to it.
So how do we increase the number of people obtaining private insurance to help level off costs to the taxpayer?
The biggest hurdle in British Columbia is that many employers are already paying huge Medical Services Premium health care taxes on behalf of their employees.
The MSP tax has increased six times in five years, jumping from $108 per month for a family like mine in December 2009 to $138.50 in January 2014. That's a $366 annual increase, or 28 per cent over five years. In fact, this tax has nearly doubled since 2001.
Now imagine the cost of this payroll tax stretching across an entire division or company. It's not hard to see why employers try to whittle down other health care costs, such as drug plans – there's just too much money going out the door already on health care.
I should note: B.C. isn't alone in this nibbling away at the ability of employers to provide benefits. Pharmacare advocates should be very concerned at how federal Employment Insurance and Canada Pension Plan payroll taxes continue to grow at an unsustainable rate – Canadian companies now pay $3,650 for every employee they have making $50,000 – and that's on top of the $3,247 paid by the employee herself.
That's less money for private drug plans, which then puts more stress on taxpayers.
Frankly, we prefer the Fraser Institute's model for Pharmacare: that governments create policies to encourage a competitive private-sector insurance market in which universal access to drug insurance is facilitated through means-tested subsidies.
This would give sick people access to new drugs far faster than we presently see in Canada. Patients getting faster access to medicine in turn saves taxpayers money in expensive treatment.
Thanks to competition, private drug insurers add new drugs at a faster rate than most of the provinces do. The Fraser Institute looked at biotech treatments in 2009 and noted that only 33 per cent of the new biologic drugs that were approved by Health Canada in 2004 were covered by at least one public drug program, compared to 92 per cent that were covered by at least one private insurer.
Frankly, the amount of time and redundancy between national and provincial approvals is outrageous. The Common Drug Review should be shortening approval cycles, not compounding them.
Now to many public sector employees, relying on private drug plans is synonymous with throwing vulnerable people to free enterprise wolves. That's where it's fair and prudent for government to come in with subsidies based on actual, real, proven need – people who, through no fault of their own, can't afford the drug plans the market provides.
That's a lesson we learned in B.C., where switching our government Pharmacare program over to need-based eligibility saved taxpayers 17 per cent while still taking care of seniors and lower income residents.
This experience actually highlights another reason to continue provincial management of Pharmacare – there is more opportunity to experiment and try other ways of delivering service. Nationalizing drug distribution will kill flexibility. Take Pharmacare national and at your 2030 conference and you can bet you'll be talking about "What's Wrong with Canadian Pharmacare."
When it comes to government, bigger is not better.