Report on Nova Scotia MLA pensions, salaries and expenses
September 14, 2010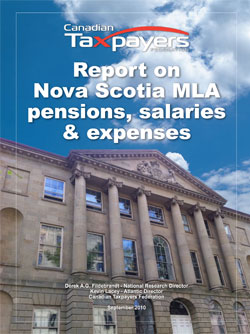 The Canadian Taxpayers Federation is pleased to offer its first report in the province of Nova Scotia on the subject MLA compensation. Specifically, this report offers a detailed analysis of the province's MLA pension plan.
The CTF's mission statement is lower taxes, less waste and accountable government.  That mission begins with our elected officials. Simply put: they must lead by example. Efforts to balance budgets cannot be embraced by taxpayers or government workers if politicians are flagrant with their expenses or granting themselves benefits out of line with public expectations.
In every province where the CTF has established a full-time presence – from Ontario West – we've had success in reforming MLA compensation to be more transparent and in line with public expectations. Specifically, we've succeeded in efforts to make politicians salaries fully taxable and reform pensions around the principle that taxpayers should contribute no more than $1 for every $1 contributed by their elected representative. As this report details, Nova Scotia's taxpayers are coughing up $22 for every $1 contributed by MLAs to their pension plan.
This report's primary recommendation is the appointment of a "citizens' panel" – randomly selected citizens to review and make recommendations surrounding how MLAs are compensated in Nova Scotia. A citizen's panel is not made up of retired judges, politicians or university professors, but ordinary citizens from all walks of life that more accurately reflect the average Nova Scotian household.  
In the meantime - along with a full-time presence in the region - the CTF will circulate and present a petition in support of reforming the MLA pension plan to one that is self-funding and limits taxpayer liability to matching MLA contributions dollar for dollar.
Fact Summary
 Taxpayers contribute more than $22 for ever $1 that MLAs do towards their pensions.
MLA pensions cost taxpayers $11.2-million per year.
Two MLAs who resigned following the "Expense Scandal" are currently collecting pensions averaging almost $50,000 a year.
MLAs receive $38 a day in addition to their salaries for attending sittings of the Legislature as "show up for work pay."
MLAs earn an average annual salary of $103,644, which is $57,644 and 125% higher than that of an average, employed and unattached male of working age.
CTF Political Compensation Principles
Transparency: MLA compensation should contain no hidden or obscure benefits.
Simplicity: MLA compensation should be easily understandable by taxpaying citizens.
No Double Standards: Compensation should not exceed what is available and permitted for Nova Scotians working in the private and public sectors.
Disclosure: The hallmark of expense claim rules should be complete disclosure to ensure that MLAs are fully accountable. Expenses should be paid on the basis of what is required to carry out the duties of an MLA and be posted online.