Shutout: How High Taxes Are Keeping the Stanley Cup out of Canada
September 23, 2013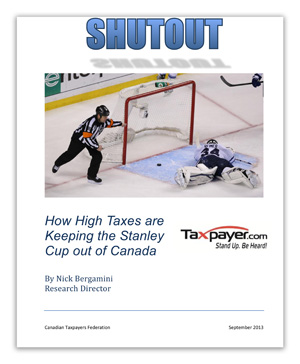 What are the ingredients for making a deep Stanley Cup playoffs run? Good management and scouting, strong coaching and a goaltender that performs well under pressure are a recipe for success. And when it comes down to the Stanley Cup Finals, a couple bounces or a blown call can win or lose you the Cup (just ask Dominek Hasek and the 1999 Buffalo Sabres).
Equally important is the business side of the equation. Big market teams with strong fan bases like the New York Rangers and Chicago Blackhawks that can spend the maximum allowed under the salary cap will always have a distinct advantage over their smaller market rivals.
But missing from the conversation about why some teams win and other teams lose is the issue of taxes; primarily the income taxes paid by the most important employees of an NHL organization – the players.
This report will show the gross disparity in income taxes paid by NHL players depending on which of the 22 provincial or state jurisdictions that host NHL teams. The results reveal that the Montreal Canadiens, Ottawa Senators and Toronto Maple Leafs are three of the least financially attractive destinations for NHL players, with income taxes costing players millions more over the course of a contract, when compared with other teams. Are the confiscatory tax rates of Ontario and Quebec a factor in Canada's 20 year Stanley Cup drought? Well, they certainly aren't helping.
In fact, the governments of Ontario and Quebec have actually made it more difficult for their NHL franchises to compete in recent years. Ontario's Liberal government added a new income tax bracket in the 2012 budget, taxing income over $500,000 at 12.16 per cent. That number jumped up to 13.16 per cent in 2013. Meanwhile Quebec's Marois government created a new bracket that sees income over $135,000 taxed at 49.97 per cent including federal taxes.
Read: Shutout: How High Taxes are Keeping the Stanley Cup out of Canada