Submission to the New Brunswick Standing Committee on Law Amendments on Motion 31: Property Assessment and Taxation of Heavy Industry
September 05, 2019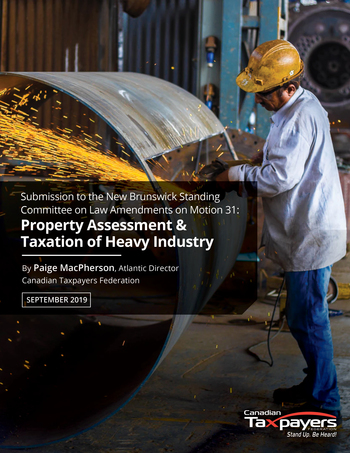 The Canadian Taxpayers Federation made a formal submission to the New Brunswick Standing Committee on Law Amendments on Motion 31: Property Assessment and Taxation of Heavy Industry. That submission, which includes a survey of CTF supporters in New Brunswick including many business owners, and a summary of the CTF's perspective and research findings, can be viewed here: https://www.taxpayer.com/media/CTF_Submission_to_the_New_Brunswick_Standing_Committee_on%20Law_Amendments_on_Motion_31-Sept2019.pdf
In New Brunswick, the immediate needs to both stimulate job creation outside of government and generate more tax revenue to pay for important services do not need to be viewed in competition with one another. Rather, these two policy goals go hand-in-hand. It is not necessary for the government to increase taxes on New Brunswick's job creators in order to generate more revenue; in fact, this could have the opposite effect by driving business, investment and people out of the province at a time when outmigration is already a significant challenge. Instead, the government should focus on policies which make New Brunswick a more welcoming place to live and start a business, in turn attracting more taxpayers and job creators and ensuring more sustainable revenue streams over the long-term.
To this end, it is crucial that the New Brunswick government remains focused on making the province a competitive environment relative to other jurisdictions in Canada and the United States. Increasing property taxes on the job creators through policies such as Motion 31 is the absolute last thing the New Brunswick government should be doing.
The Canadian Taxpayers Federation maintains an Atlantic office based in Halifax and covers New Brunswick issues of importance to our supporters year-round. To offer the feedback of our supporters directly to the Standing Committee on Law Amendments, we conducted a survey of our New Brunswick supporters. Those survey responses are shared throughout this submission. Notably, 86 per cent of the taxpayers surveyed think including machinery and equipment in the assessment of business property taxes is a bad idea because it will make it harder to do business and create jobs in New Brunswick.
Read more by clicking here.