Unmasking Employment Insurance: How EI Increases Unemployment and Steals Billions from Working Canadians
November 18, 2013
Unmasking Employment Insurance: How EI Increases Unemployment and Steals Billions from Working Canadians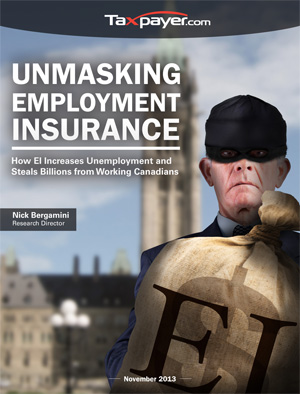 The Canadian Taxpayers Federation suggests that working Canadians be entitled to keep the $4,277 currently plundered from them and their employer every year in EI premiums, rather than sending the money to Ottawa, to be processed and shipped elsewhere.
Canadian workers should instead direct the money to their own Employment Insurance Savings Account (EISA). If they, their spouse or a family member lost their job, they could draw down the EISA account. This money could be invested in any RRSP eligible investment vehicle.
Upon retirement, the employee would transfer the balance of the EI Savings Account into their Registered Retirement Savings Plan and roll it into a Retirement Income Fund, a Tax-Free Savings Account, or into a Pooled Registered Pension Plan.
An Important Side Benefit: Higher Retirement Savings
By significantly increasing retirement savings, the EISA would address two pressing issues simultaneously; chronic unemployment and inadequate retirement savings.
Read the full report: Unmasking Employment Insurance: How EI Increases Unemployment and Steals Billions from Working Canadians