Unshackling Potential: 2009 Pre-Budget Submission
December 31, 2008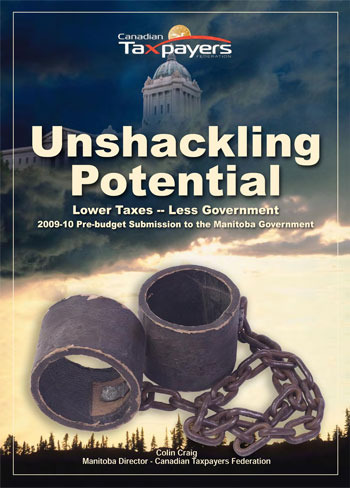 In its 2009 provincial pre-budget submission, the CTF proposed reducing taxes, addressing spending and providing more opportunities for the private sector in order to spur economic growth.
The Manitoba office of the Canadian Taxpayers Federation (CTF) is pleased to present its recommendations for the 2009/10 Manitoba budget. To begin, the CTF would like to commend the government for standing by its commitment to continue with previously announced tax relief despite economic uncertainty in the global economy. History has shown that tax relief can help fuel economic growth and facilitate economic recovery during economic slowdowns.
By proceeding with previously announced tax relief commitments, Manitoba will be in a better position to weather the economic slowdown ....
Download and read the full report.