The Taxpayer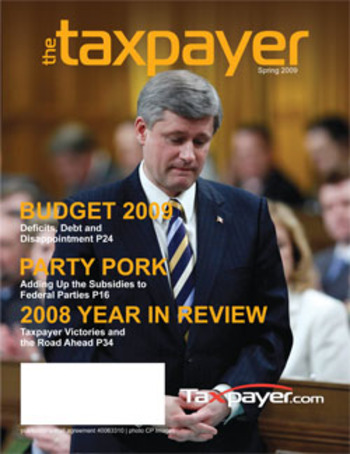 Le Vancouver Sun surnomme notre magazine « le Playboy des contribuables : provocateur, dérangeant et légèrement choquant. » Le magazine The Taxpayer , publication phare de la Fédération canadienne des contribuables, « regorge de renseignements et de données qui retiennent l'attention ».
Publié trois fois par année, le magazine est distribué aux sympathisants de la FCC et aux politiciens dans tout le pays. Il propose tout autant des analyses, des mises à jour sur les campagnes, des commentaires de chroniqueurs invités et des histoires de réussite que des histoires d'horreur. En 2009, le magazine a pris de l'importance, passant à 48 pages et à un papier de meilleure qualité.
Vous trouverez ci-dessous les grandes lignes de l'exemplaire du printemps 2009 (en anglais seulement), qui détaille le retour des déficits publics, analyse les subventions aux partis politiques fédéraux et résume les activités menées par la FCC en 2008.
Si vous désirez afficher une publicité dans le magazine The Taxpayer, cliquez ici pour télécharger notre trousse de tarification et connaître les coordonnées pertinentes.
Cliquez ici pour faire un don à la FCC et recevoir le magazine The Taxpayer!
The Taxpayer – printemps 2009

Sections principales

Sections par province