Success Stories
March 01, 2013
It's hard to call a successful public policy campaign a victory, as victory signifies finality. When it comes to public policy, there is rarely a final victory or final defeat. For example, the successful fight led by the CTF to balance budgets and secure laws that outlawed deficits in the 1990s is being fought once again.
The CTF has fought many a public policy battle since its founding in 1990 and we've had our share of ups and downs. The following is a brief summary of just some of those campaigns where the CTF can tangibly point to its involvement having made a significant difference. Importantly, the CTF does not claim to have achieved anything on this list in isolation. But does claim – in all instances – to have played a leading role.

BALANCING BUDGETS
Years of consecutive and uncontrolled deficits through the 1970s and 1980s racked up by federal and provincial governments were a catalyst for the CTF's creation. In 1993, the CTF commissioned the construction of a National Debt Clock – 12 feet long, eight-and-a-half feet high – with changeable faceplates for the federal and each provincial government. The clock displayed the per-second increase in debt along with increasing debt for the average family of four. In a modified horse trailer, the clock was toured across the country and made headlines wherever it was set up.
At every turn, the CTF challenged politicians and organized significant petition campaigns aimed at balanced budget legislation. It paid off. First in several provinces and later federally, the country as a whole gradually moved from red ink to black ink. In the years between 1997 and 2008 the federal government alone re-paid $105 billion in debt.
Unfortunately, 2008 marked a return to deficit spending. In early 2009, the CTF launched an online debt clock and petition at DebtClock.ca. But many longed for the original.
In late 2010, CTF donors restored the National Debt Clock restored the National Debt Clock along with a new trailer and SUV to pull it. On February 22, 2011 the clock began a 10,000-kilometer journey from Mile 0 of the TransCanada Highway in Victoria, B.C., wrapping up 33 days later in Lunenburg, N.S. The cross-Canada tour crossed nine provincial borders and stopped in 71 communities greeted by media, lawmakers, ordinary taxpayers and CTF supporters.
On April 8, 2011 we got the commitment we were seeking when Prime Minister Harper stated: "we will reduce the cost of government through finding efficiencies through a thorough strategic and operating expense review. This will allow us to eliminate the deficit in 2014, a full year ahead of schedule."
The CTF is committed to holding the Harper government accountable for its balanced budget commitment without raising taxes. The clock − with its changeable face plates − is also being called into duty in many provinces where runaway provincial debts are a concern.
THE "OLSON BILL"
When the CTF learned in 2010 that serial child-killer Clifford Olson was collecting Old Age Security and the Guaranteed Income Supplement, we got organized. We quickly gathered 46,000 signatures on petitions and delivered them to federal Human Resources Minister Diane Finley who responded with Bill C-31. That Bill sought to end low-income support payments to all incarcerated seniors.
The CTF issued statements, conducted media interviews and testified in support of the bill to committees of both the House of Commons and Senate.
On December 15, 2010 the Bill received royal assent and became law of the land effective January 1, 2011.
It was a clear victory for the CTF: saving taxpayers $10 million a year and demonstrating that citizens can make a difference!
ABORIGINAL POLICY REFORM
For years, the CTF has challenged conventional wisdom concerning Aboriginal policy and building the case for change where others would not for fear of "political correctness." Case in point: the Treaty 8 taxation case (Benoit v. Canada). At issue was Treaty 8 Indian Gordon Benoit who claimed an oral promise made to his ancestors in 1899 exempted him and all Treaty 8 Indians from having to pay any tax, for all time, anywhere in Canada.
Your CTF intervened in this case to argue what politicians would not: that a race-based tax exemption would violate equality provisions of the Charter, numerous international treaties, conventions against racism and basic principles of fairness.
If someone does not pay tax it should be because they are poor, not because of their racial ancestry.
While the CTF first lost the case in 2002, we won on appeal in 2003 and the Supreme Court of Canada finally dismissed the matter in 2004, winning a big victory for the equality of Canadian taxpayers.
The CTF is guided by the principles of support for individual property rights, equality, self-sufficiency, as well as democratic and financial accountability.
In 2010 for example, the CTF created a website, ReserveTransparency.ca to assist band members in learning about their rights in obtaining band financial information. The site was in response to the CTF receiving and publicizing "brown envelope" information dropped at CTF offices disclosing exorbitant salaries paid to some band chiefs and councilors.
The CTF did further investigation and pried loose federal governmnet information showing that in 2008-09, there were 50 reserve politicians that earned more than the prime minister, approximately 160 that received more than their respective premier and over 600 that had an income equivalent to about $100,000. The data also showed the average reserve in Canada has a population of approximately 1,142 people.
However, the data did not include any names.
Reasonable people can debate pay levels, but it seems ridiculous that in this day and age citizens don't have access to how much their elected officials are being paid. Summed the Globe and Mail: "to disclose the salary and expenses of chiefs and councilors paid with federal funds is a needed step."
A private member's bill to disclose reserve politicians' pay failed to pass, but returned in 2011 as a government measure in the form of Bill C-27. The government accepted CTF recommendations to broaden the bill to include a requirement to not just post chief and council's pay online, but also audited financial statements. The bill received royal assent and became law on March 27, 2013.
Transparency has led to immediate results. For example, one community in Nova Scotia turfed its old crew and elected a new chief and council dedicated to accountability. The new chief gladly accepted a $90,000 pay cut; even letting band members decide her pay.
The CTF has made several appearances before committees and published many reports to challenge a status quo that has hurt both natives and non-natives alike.
POLITICIAN PAY REFORM ... & THOSE GOLD-PLATED PENSIONS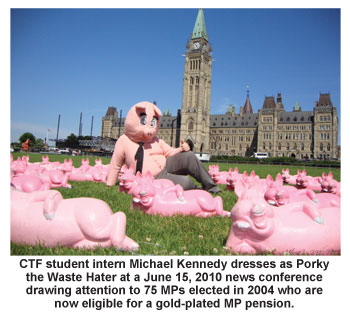 Across Canada the CTF has successfully sought reform of legislators' compensation around the guiding principles of transparency, fairness and simplicity. Specifically, the CTF has opposed gold-plated pensions, and so-called "tax-free allowances" that exempt one-third of legislators' salaries from federal and provincial income taxes. This is an important watchdog role for the CTF, as opposition politicians who should be blowing the whistle are often themselves wallowing in the same trough as government members.
The CTF is the only organization in the country that regularly calculates and releases the details of politicians' pensions and benefits. Change has generally been built around petitions, the opportunity to make detailed submissions to compensation review panels, significant media coverage and, on occasion, advertising campaigns.
In Ontario, B.C. and Manitoba, legislators implemented a fully taxable salary and reformed their pension arrangements to a dollar-for-dollar, self-funding plan (Saskatchewan implemented a self-funding plan in 1979). Alberta abolished its gold-plated plan in 1993 and replaced it with an RRSP allowance. In 2001, federal parliamentarians finally adopted a fully taxable salary as did legislators in Saskatchewan in 2006. Incredibly, politicians in British Columbia and Manitoba reinstated defined-benefit pension plans in 2007 and 2005 respectively.
Within four months of establishing a full-time presence in Atlantic Canada and launching a campaign to reform MLA pensions in Nova Scotia and New Brunswick; reductions of 30% resulted in both provinces.
However, the CTF's biggest victory on politicians' pensions came October 19, 2012 when the federal parliament voted unanimously to reform their gold-plated retirement benefits. In 2012 the CTF stepped up its efforts launching a cross-Canada billboard campaign, running ads in Toronto restrooms and on September 17th, the day MPs returned to parliament after their summer recess, they were greeted by a 2,000 square-foot aerial banner that read "Fix your Pensions!" The changes aren't perfect, but whereas taxpayers were once coughing up $24 for every $1 an MP put into their pension kitty, the changes, once fully implemented, will reduce that ratio to around $1.62 to $1.
Until brought to public attention by the CTF, both Saskatchewan and B.C. had the practice of allowing retired or defeated MLAs to keep all the taxpayer-provided furnishings and equipment in their office upon retiring or being defeated. Dubbed the "Clean Office Policy" by the CTF, the practice was eventually ended in both provinces.
In 2012, the CTF brought to the attention of Alberta taxpayers an all-party legislative committee that was paying itself $1,000 a month. One problem: the committee hadn't held a single meeting in over three years. The news set-off a firestorm resulting not only in MLAs on the committee having to pay the money back, but the elimination of the one-third tax-free salary perk, all committee pay and the removal of the gold-plated "transition allowance."
The CTF hasn't let cities off the hook either. In 2006, a CTF-led campaign resulted in Calgary joining other major Canadian cities such as Vancouver and Toronto in subjecting their mayor and councillors to fully taxable salaries.
TAX REFORM
In 1998 the CTF submitted a report to the Alberta Income Tax Review Committee calling for lower, simpler and flatter income taxes. The four pillars of reform called for: an end to bracket creep, a more generous basic personal exemption, a low single rate of income tax and an end to tax discrimination based on marriage. The CTF's recommendations were adopted almost verbatim by both the committee and government of Alberta.
Better, in 2001, the Alberta government announced it would be lowering its single rate tax of 11% to 10%. The CTF points to Alberta's income tax structure as a model for all of Canada. Alberta's reforms opened the door for income tax reviews in other provinces including the end of bracket creep in Ontario and B.C.
A CTF presentation to Saskatchewan's Business Tax Review Committee in 2005 also resulted in tangible results: eliminating the corporate capital tax, reducing the business income tax rate from 17 to 12% and increasing the small business tax threshold to $500,000. Further, a CTF push to reduce the rate also led to savings. In the 2011 budget, the government reduced the rate from 4.5% to 2%. Today, Saskatchewan has one of the most competitive tax structures for business in the country.
The CTF's push for business tax relief has also had success in neighbouring Manitoba. The general rate has been reduced from 17% to 12% over the past decade and the province is now the only jurisdiction in Canada without a small business tax rate.
CTF advocacy in support of broad-based (as opposed to "boutique") tax reform was a key factor in the federal government's tax reduction policies in both its Economic Statement of October 2007 and Budget 2008 [see "Tax Cuts 2005 – 2007"].
THE 1995 FEDERAL BUDGET
In its January 12, 1995 lead editorial, the Wall Street Journal dubbed Canada "an honorary member of the third world in the unmanageability of its debt problem." The 1995 federal budget was truly a defining moment in the nation's history. Paul Martin, in only his second budget, had no choice but to tackle the deficit in a meaningful way. At issue was how he would do it. In the lead-up to that budget, the House of Commons Finance Committee recommended a slew of new taxes. Taxpayers were having none of it. And, unlike the GST five years earlier, taxpayers now had a national advocacy group that could organize pro-actively.
And we did.
Nineteen TAX ALERT rallies from New Brunswick to Vancouver Island attracted 20,000 Canadians and 233,000 petition signatures were delivered to Finance Minister Paul Martin before he delivered his budget. And while the budget did contain some modest tax increases there can be no doubt of the campaign's impact.
On March 1, 1995, in the aftermath of our successful campaign, the Wall Street Journal summed: "The grass roots campaign … had an impact, Mr. Martin was able to sell deeper spending cuts to his cabinet colleagues and steer them from raising taxes on personal income." Not only did the campaign stop major tax increases, it elevated the CTF to national prominence.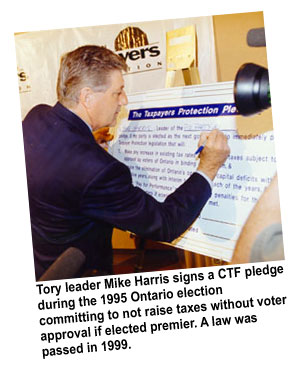 TAXPAYER PROTECTION LAWS
Voluntary compliance on the part of politicians to balance the books, reduce debt and hold the line on taxes has proven a failure. As past CTF president Jason Kenney used to say "we're in the 25th year of the government's five year balanced budget plan."
As early as 1994, CTF researchers went to work drafting model balanced budget/taxpayer protection legislation that would broadly do three things: balance the budget, require voter approval for new or increased taxes and penalize politicians for non-compliance.
Each province – where the CTF had a presence – responded. Saskatchewan passed a balanced budget law. As did Alberta. More important, Alberta's included a debt retirement provision and in 1999 added a further provision requiring three-quarters of any surplus be directed toward debt repayment. A law passed in B.C. in 2001 requiring balanced budgets and penalizing ministers for overspending their ministry budgets.
Manitoba passed the first comprehensive taxpayer protection law in 1995. The Act included requirements for balanced budgets, referendums on major tax hikes and mandatory debt retirement. Ontario also passed a comprehensive taxpayer protection law (1999) in the wake of Mike Harris' signature on the CTF's Taxpayer Protection Pledge during the 1995 Ontario provincial election.
The benefits of these laws included debt repayment, lower interest costs and the ability of governments to finally reduce taxes. On March 31, 2005 Alberta became the first debt-free jurisdiction in the country!
Unfortunately, many of these laws have been gutted. Even before the recent economic downturn, former premier Ernie Eves weakened Ontario's law and his successor Dalton McGuinty neutered what was left. B.C.'s law was amended twice in 2009 as was Manitoba's in 2008 and 2009. Alberta returned to big deficits in a big way in 2008.
The CTF believes that with the exception of emergencies, federal and provincial governments should be required to balance their budgets like households, municipalities and states in the U.S. A more potent brand of the CTF-inspired balanced budget/taxpayer protection laws – perhaps voter protected – is needed. We've won this battle before, and can win it again.

THE BRACKET CREEP SQUEEZE
In the mid-1990s Canadians were well aware that harder work and more income was not getting them any further ahead. Although it was not well known, the problem was called "bracket creep." In 1985, the federal government "de-indexed" the income tax system exposing a greater share of Canadians' inflation-driven incomes to taxes each year.
The result: After 14 years of this stealth tax, the federal and provincial governments had netted $90 billion in new revenue.
In CTF pre-budget submissions in 1997, 1998 and 1999 the CTF demanded full re-indexation of the income tax system. And while the CTF was successful in convincing the House of Commons Finance Committee and the Alberta government, others proved a tougher nut to crack. So out came the cannons.
First in 1998, and then again in 1999, national campaigns aimed at eliminating bracket creep and lowering overall taxes were launched. The press conference launch in 1999 included 9,418 stacked loonies to show the impact bracket creep had on the average wage earner over the past decade. The campaigns also included comprehensive research, a cross-country speaking tour, billboards and a massive online petition drive called the "Billion-Byte March."
Our efforts were rewarded with the announced death of bracket creep on February 28, 2000. The campaign has saved taxpayers literally billions. Then Minister of Finance Paul Martin wrote: "The Federation is an important and valued voice in decision making … nowhere is this more evident than in the leading role that the Federation played in educating Canadians about bracket creep and building support for re-indexation of the tax system."

AN END TO CORPORATE WELFARE
In every province and federally, the CTF has long demanded not only an end to corporate welfare, but legislation preventing the practice. A significant victory was won in Alberta with the 1996 passage of the Business Financial Assistance Limitation Act (now rolled into the Financial Administration Act) which prohibits new loans and guarantees from being issued without the passage of specific legislation, ensuring full public debate before tax dollars can be sunk into any business venture. It is the only jurisdiction in Canada with such a law in place.
Federally, the CTF was hopeful back in 2006 when the Conservative Party under Stephen Harper had campaigned on eliminating corporate welfare and regional development agencies.
However, since taking office, these programs have actually expanded.
DEMOCRATIC REFORM
So much of what the CTF deals with – high taxes, debt, wasteful spending – is symptomatic of a much larger problem. That problem, simply put, is that our current political system fails to be accountable to the people who pay for it. For years – through commentaries, legislative presentations, reports, campaigns and conferences – the CTF has advanced the need to empower taxpayers through meaningful democratic reforms like citizen-initiated referendum, recall, whistleblower protection, embolden access to information laws and alternatives to our current voting system.
In 1991, we successfully pushed the Saskatchewan government for a province-wide referendum question on citizen-initiated referendum legislation which was supported by 80% of voters. In Alberta, we twice supported private members' bills that came just short of passing. In British Columbia a provincial Recall and Initiative Act was passed – albeit with extremely high thresholds. It was nevertheless a start and a law that the CTF would later defend against a Charter challenge. Voter approval mechanisms for new or higher taxes were a central ingredient in taxpayer protection laws in both Manitoba and Ontario [see Taxpayer Protection Laws].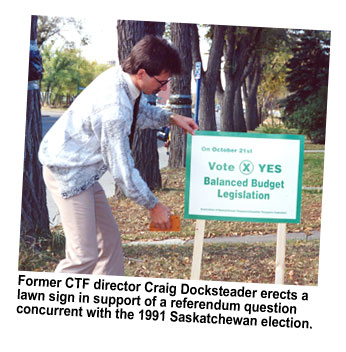 In B.C., the CTF played a leading role in the campaign for a province-wide referendum on adopting a new voting system. The province-wide referendum received 57% of the vote on May 17, 2005. Similar referendum questions fell short of the 60% threshold in Prince Edward Island 2005, Ontario 2007 and British Columbia 2009.
A scandal ridden federal government paved the way first, for proactive expense disclosure in 2004 followed by the Federal Accountability Act in 2006 which changed rules surrounding political party donations, lobbying, appointments, government contracts and advertising.
Protection is in place for whistleblowers and the power of the auditor general and comptroller general is enhanced. While the Act stopped short of access to information reforms, it was a big step in the right direction and one supported by the CTF which had been championing many of these changes for years.
Another long-time democratic reform priority of the CTF is to either abolish or reform the unelected, unaccountable Senate. In 2006, legislation came forward that requires appointments to the Senate to first be elected by voters in the provinces and second, limits their terms.
The legislation has since died on the Order Paper and been brought back time and time again. It has currently passed the House of Commons but is awaiting – with a twist of irony − Senate approval.
JUNK MAIL JUNKED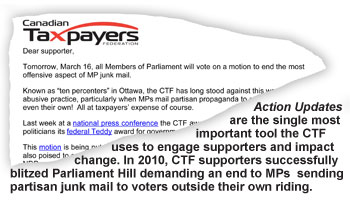 Shortly after "MP junk mail" received a Teddy waste award, a Liberal MP put forward a motion to stop MPs from mailing flyers outside of their own ridings. The CTF quickly e-mailed our supporters across the country and encouraged them to let their MP know that taxpayers didn't want to fund their junk mail campaigns, let alone keep receiving them. CTF supporters bombarded their MP's offices with calls, faxes, e-mails and letters demanding they vote in favour of the bill. Although Conservative MPs voted against the measure, it still passed 140-137 with the support of the Opposition parties.
MPs are no longer allowed to mail junk flyers to ridings outside their own saving taxpayers $10 million a year and a few trees in the process.
NO NEW MUNICIPAL TAXES
Despite taxpayers being squeezed by three and sometimes four levels of government – none are seeking to expand their scope more than municipalities.
The CTF waged its first – of many – battles with the Greater Vancouver Transit Authority (TransLink) in 2000 when the CTF successfully led public opposition to the agency's attempt to bring in a $75 per vehicle registration tax. The battles continued through the next decade, culminating in 2011 after TransLink raised its share of the B.C. gas tax to 17 cents per litre (making Greater Vancouver's gas taxes the highest in North America at a total of 50 cents/litre). The CTF exposed numerous well-publicized examples of wasteful spending and questionable salaries and bonuses. The work led directly to the premier ordering a full review of TransLink, which should be complete in early 2013 and address many taxpayers' concerns.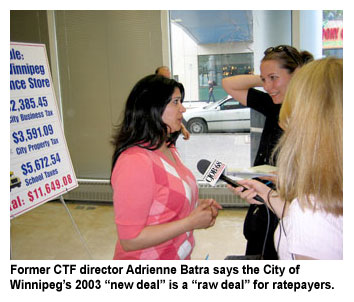 In 2003, the former mayor of Winnipeg proposed a "new deal" which offered lower property taxes in exchange for a liquor tax, a city sales tax, a city gas tax, an energy tax on natural gas and electricity, a hotel room tax, a telephone tax, a sewage and water tax increase and a user fee on garbage removal. The CTF was the first to call the proposal a tax grab and quickly organized public opposition leading to a new mayor who committed to examining the spending side of the equation and killed any new taxes.
In 2006 the province of Ontario passed the City of Toronto Act which allows that city to impose new taxes. In 2007, Toronto proposed ten new taxes on everything from theatre tickets to purchasing a home. The CTF released analysis showing an average homeowner could expect to be shelling out $1,182 more a year. The CTF started a petition, commissioned a poll, a phone-in campaign and presented at city hearings. In the end, six of the ten new taxes were taken off the table and in 2010 a new mayor eliminated one of the four that did get implemented.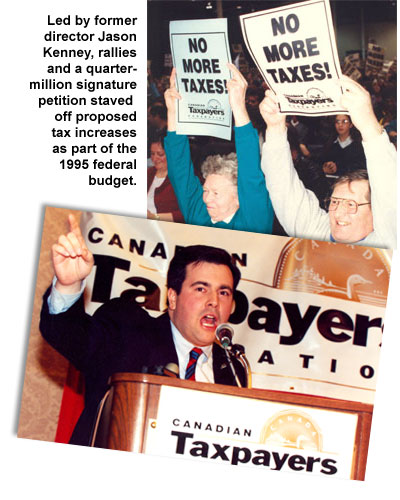 In March 2007, a government council recommended the province of Alberta give local governments the right to levy six new taxes, including: land-transfer taxes, entertainment taxes, hotel taxes and vehicle registration taxes. CTF led opposition with an analysis showing the average family of four could expect to pay an additional $911 in taxes. The politicians heard from CTF supporters. In the summer of 2007, Premier Stelmach wisely told mayors to put the taxing powers on the fall municipal ballot if they wanted them so badly. None did.
The CTF opposes all new taxes on the grounds that "new" taxes never replace "old" taxes. They simply provide politicians more taxing levers and less incentive to look at the spending side of the ledger.
TAX CUTS 2005 - 2007
It seems that tax cuts hit the radar screen every five years. The CTF organized cross-country rallies opposing proposed new taxes in 1995, successfully fought to eliminate bracket creep and reduce income tax rates in 2000 and in 2005 played a leading national role in bringing taxes down yet again.
After years of demanding excessive federal surpluses be returned to taxpayers, on the eve of an election call in November 2005, the Liberal government announced an immediate and retroactive reduction of the bottom income tax rate and an increase to the Basic Personal Exemption worth $4.5 billion.
Fast forward one year and a Conservative government was delivering its first budget in 13 years. At issue however was whether income taxes would be raised to allow for a promised 1 point reduction in GST. The CTF provided analysis, issued media statements, published commentaries and earned editorial praise right across the country. We met with decision makers and urged CTF supporters by the thousand to contact the finance minister and prime minister before budget day.
The effort paid off. Along with a GST cut almost all the previous income tax reductions remained intact – no taxpayer was worse off.
The morning after the 2006 budget, the CTF led reaction on front pages of both the Globe and Mail and National Post. As Maclean's Magazine editor-in-chief Ken Whyte put it succinctly: "The Canadian Taxpayers Federation dominated coverage of this year's budget."
An Economic Update delivered in October 2007 cut the GST a further point to 5%, reduced the lowest income tax bracket a half point, increased the Basic Personal Exemption and scheduled a reduction in the general business tax rate from 22% to 15% by 2012.
Not only were these tax cuts measurable, but they were broad-based and accountable (keeping an important election promise to reduce the GST by two points). The CTF had been lobbying hard against "boutique tax cuts" that benefited some, but not all taxpayers.


FREEDOM OF INFORMATION LAWS
The CTF has both played champion and defender of Freedom of Information (FOI) laws. The public has a right to know how their dollars are being spent and from its inception the CTF has fought to pry the closed doors of government open.
Major petition drives in 1990 in both Saskatchewan and Alberta eventually led to the implementation of laws in those two provinces. Since that time the CTF has participated in every opportunity to make the legislation more open and accessible. In British Columbia and Manitoba the CTF was instrumental in both forming and maintaining coalitions that successfully staved off proposed changes that would have weakened laws.
Predictably, politicians are big fans of access to government information – right up until they get into government! Each year the CTF works with a cross-section of groups in the provinces and federally to mark "Right to Know Week" promoting the importance of access laws. The CTF and its offices are major users of FOI. Many of the waste stories documented by the CTF over the years have come about as a result of FOI requests made to government.
SHOOTING DOWN THE GUN REGISTRY
In 1995, when Jean Chretien's Liberal government introduced Bill C-68 creating a long-gun registry, Canadians were promised it would lower crime and only cost taxpayers $2 million dollars. We now know, this wasteful program cost Canadians an estimated $2 billion dollars.
In 2002, the CTF presented Auditor General Sheila Fraser a petition with over 14,000 signatures encouraging her office to audit the program. She did, twice. And her findings revealed astounding waste.
In 2006, the CTF collected another 28,000 petition signatures this time delivering to then Public Safety Minister Stockwell Day calling on the federal government to shut down the long-gun registry and reallocate budgeted gun registry spending to front-line policing and effective controls against illegal firearms
In 2009, a private members bill surfaced – C-391 – that would kill the registry, while still requiring people who wanted to purchase long guns to be licensed.
The CTF organized its supporters to contact MPs from all parties in the minority Parliament to urge the bill's passage. Indeed, the bill survived second reading with nearly one-third of the NDP caucus voting in favour. The CTF appeared before committee, bought radio ads, wrote commentaries, organized on social networks and conducted dozens of media interviews but ultimately came up short on the bill's final reading.
Fortunately the Conservatives campaigned on reintroducing the bill and shortly after being elected a majority government, introduced Bill C-19 that received Royal Assent on April 5, 2012 and brought this 17 year battle to an end.
PHASING OUT THE VOTE TAX
The CTF has long-held the view that political parties, not taxpayers, should fund their own signs, attack ads and flyers before, after and during election campaigns. As such, we have fought the per-vote subsidy (a.k.a 'the vote tax') since it was announced in 2003 by the Chrétien government.
Originally, parties were each year handed $1.75 per vote they received in the last election; fully indexed, it peaked in 2011 at $2.04 per vote (this is on top of taxpayer reimbursement of election expenses and massive tax credits – far more generous than what is available to charities).
The CTF appeared before parliamentary committees, wrote commentaries and issued news releases with each Elections Canada report showing the amounts being handed out and demanding the practice end.
But while the public didn't like the Vote Tax, most of the politicians did. Who can forget the first attempt to eliminate the Vote Tax in late 2008 that resulted in a near government take-over by the three opposition parties.
Commendably, the government did not abandon its commitment and, now with a majority, announced as part of the 2011 federal budget a three-year phase out of the tax which will save taxpayers $30 million annually.

DEDICATED GAS TAXES
Each year the CTF holds Gas Tax Honesty Day which blows the whistle on government tax gouging at the pumps and demands gas taxes be reinvested into roads and infrastructure. Unbeknownst to most consumers, a third of the pump price of gasoline is tax!
When the event began in 1999, less than 42% of gas taxes collected by all levels of government was put back into "infrastructure," and only 2% of what the feds collected was. Our message to governments on fuel taxes: "use it or lose it," direct half into a Municipal Roadway Trust and return the remainder to motorists and taxpayers in the form of lower fuel taxes.
To date, over 150,000 Canadians (including 2,046 mayors and councilors from 459 communities) have signed the CTF's gas tax petition demanding lower and dedicated fuel taxes.
During the 2004 federal election campaign, the CTF drove a decorated mini-van from Mile 0 of the TransCanada Highway in Victoria, B.C. all the way to Parliament Hill. The "Running on Empty, Fuming to Ottawa Tour" stopped in 40 communities, conducted countless media interviews, collected signatures and talked to thousands of taxpaying motorists. The campaign resulted in all three major party leaders finally making commitments to dedicate a portion of the federal fuel tax to municipal roads and infrastructure. Stephen Harper even declared as opposition leader at the time that he would lower fuel taxes if elected prime minister.
And while gas taxes have yet to come down (the feds still apply GST/HST to gas taxes) significant progress has been made dedicating fuel taxes to roads and infrastructure. By 2008, more than 100% of what the governments collect in gas taxes is reinvested into "infrastructure." Although "infrastructure" has a somewhat dubious definition (think canoe museums and bocce ball courts), we know much progress has been made since the CTF began its efforts in 1999.
Provinces meanwhile have gone a step further. Manitoba passed a Gas Tax Accountability Act in 2004 requiring fuel tax revenues be dedicated to roads. Two years later, Saskatchewan followed suit.

ALBERTA HEALTH TAX ABOLITION
Most public policy victories involve other advocates. But not in this instance. In 2003 when the CTF initiated a campaign to abolish Alberta's health tax it was ignored by mainstream media and dismissed by decision makers. But the case against the health tax was clear: it did not pay for health care, it had nothing to do with insurance, it was costly to administer, and it was regressive. The CTF published analysis, distributed commentaries, and used polling data to demonstrate public opposition. With each passing year, CTF directors marched in a mounting pile of petitions to lawmakers and made the case. First, it was opposition parties that came on side followed by the government eliminating the health tax … for seniors. Momentum had swung!
On the eve of calling a provincial election in 2008, Alberta Premier Ed Stelmach announced health care premiums would be scrapped for all Albertans. It meant each Alberta family would keep an additional $1,056 of their earnings. Every major media outlet in the province – Canadian Press, Calgary Herald, Edmonton Journal and the Globe and Mail – credited the CTF for the victory. As the Edmonton Sun put it: "the Canadian Taxpayers Federation campaigned tirelessly to get the premium scrapped."
EXPENSE TRANSPARENCY
Exposing bureaucrats and politicians traveling, wining and dining on the taxpayers' dime has been a long-time priority of the CTF. In fact, the CTF's flagship event each year, the Teddy Waste Awards, are named after one of Ottawa's most prolific expenders of fine dining: Ted Weatherill.
The solution to curtail this is very simple: post all the expenses of politicians and bureaucrats online. After all it's taxpayers' money and the ones spending it should be accountable.
Following the Sponsorship scandal in Ottawa, Prime Minister Paul Martin ordered all senior staff and cabinet ministers to begin posting their expenses online. While stopping short of putting receipts online as well as the expenses for all Senators and Members of Parliament, it was a great start.
The CTF has pushed for politicians and bureaucrats at all three levels of government to disclose their expenses, including receipts, online for all to see. This is what the City of Toronto does and it remains the gold-standard of expense disclosure in Canada. CTF campaigns in Nova Scotia, Manitoba, Saskatchewan, Alberta, B.C. and Ottawa have started to gain traction.
In 2010, following the CTFs release of some embarrassing MLA expenses in Saskatchewan, both the NDP and Saskatchewan Parties agreed to adopt the CTF recommendation of putting their expenses online. And in record time!
Next door in Manitoba, a commissioner responsible for changing the rules for MLA expenses acted on almost every CTF recommendation presented to him. Soon, Manitoba taxpayers should be able to view more details of provincial politicians' expenses online.
In 2011, the Nova Scotia government said it would commit to putting provincial politicians expenses on-line for all to see. But when it came time for the policy to be implemented, politicians got cold feet. Taxpayers were angry that the government would not stick to its promise of full disclosure. The CTF gave a voice to those taxpayers, writing to the speaker of the Legislature and conducting media interviews to push for change. And after just one day of the CTF's campaign, the government gave in and now all expenses and detailed information are posted on-line for taxpayers to see.
In 2012, following an audit of the B.C. Legislature and a sustained campaign by the CTF for better expense disclosure, an all-party committee of MLAs agreed to start putting up expenses online in calendar 2012.
Also in 2012, after the CTF extracted a written commitment from Alberta Premier Alison Redford that she would follow the Toronto model she appointed an associate minister responsible for Accountability, Transparency and Transformation who has since announced that all MLAs, cabinet ministers, the premier, political staff and senior bureaucrats - some 400 people in all - will be required to post hospitality and travel expenses online including receipts.
KILLING KYOTO
From Johannesburg South Africa in 2002, Prime Minister Jean Chretien announced that he expected Parliament to ratify the Kyoto Protocol Canada signed 5 years earlier along with 160 other nations committing to reductions in man-made carbon emissions.
Despite the protocol not being an issue in either the 1997 or 2000 federal elections − and without any consultation − ratification of the agreement would require carbon emissions be reduced 6% below 1990 levels by 2012. Sounds benign, but in practice, it required a 30% reduction in emissions given growth over the period.
Clearly, this would require a massive re-tooling of industry, reduction in energy consumption, purchase of international carbon ("hot air") credits and significant "investment" in green energy infrastructure – all of it paid for by taxpayers and consumers. Meanwhile, the likes of the United States, China, India and Australia refused to play along.
The CTF immediately joined eight other organizations in running full-page ads in newspapers across Canada questioning the policy. We also targeted the ridings of Ontario cabinet ministers with radio ads.
But we really started gaining traction when we commissioned research showing Kyoto would cost the average Canadian family of four $2,700. In 2005, we updated the research to show the annual impact for a family of four was up to $3,000.
Fortunately, the Chretien government largely paid lip service to the protocol. Yes there were some industry quotas imposed, but for the most part, millions of tax dollars were spent on ads telling Canadians to drive less and wash their clothes in cold water.
In fact, after the Liberals left office in 2006 (nine years after signing the Protocol) targets were further away than ever – now requiring a 35% cut in emissions by 2012.
The CTF made it a priority for the new government to "Scrap the $10-billion Kyoto Implementation Plan."
The ludicrousness of the targets coupled with a cooling toward global warming hysteria triggered a turn in public opinion.
On December 6, 2011, Canada signed an order in council withdrawing from the Protocol.